Liam Scully and His Wife's Reunification Fundraising Programme
Liam Scully
---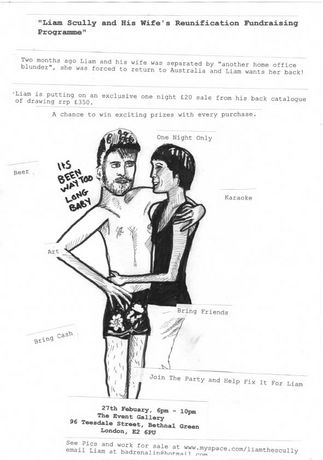 Two months ago Liam and his wife Vanessa were separated by yet Another Home Office Blunder, she was forced to return to Australia and Liam wants her back!
In an effort to raise funds he is putting on an exclusive one-night sale from his back catalogue of drawings.
Buy Art and help fight the evil grey skinned pen pushers.
...and be in with chance to win exciting prizes with every purchase.
Art. Karaoke. Booze.
Bring Cash. Bring Friends.
One Night Only.
Join The Party and Help Fix It For Liam and watch his attempt at crossing the world in one evening.
I am hoping to raise enough money to travel to Australia and bring my wife back. I get to do this with your help and you get to own some of my best work ever for "cheap as chips".
---