Nobody's Story
curated by Gulsen Bal
---
Artists: Ergin Çavuşoğlu, Alban Muja, Servet Koçyiğit, Şener Özmen, Nasan Tur
Project curator: Gulsen Bal
Beyond an exhibition at a physical space Nobody's Story addresses differential structures within its multiplicity through focusing on culturally specific conditions in relation to mobility: "nomadic voyaging" towards an encounter to establish the new and unknown. This draws attention upon a certain ontological root of the complex relational powers within shifting modalities which conveys the world in its multiplicity through a matrix of "situational representation". The resulting junction unfolds the creative process to a dialogical interaction in the midst of temporalised space which determines the routes taken per se.
The space of this relation necessitates an examination of an engagement of the politics of production and production of subject. This requires looking into the processes of new topological zones of exclusion and/or inclusion where the politics of recognising the "other" produces a machine at the very cultural determinacy. This paradoxical instance circulates the mode of its production where different orders constitute multiplicities of differential relations with its multitude outside representational boundaries.
This in its turn generates an engagement in rupture. What, then, is left, which opens up the nobody's self in a moment where nothing is the "same"? What are the parameters of the possible?
This group exhibition Nobody's Story offers a reflection on the power of the active autonomous agent in different corners of the world. This connects the creative practice with the world in which we live. Invited are artists whose diverse practice is based on the exploration of changing places through looking at the location of emerging spaces where its journeys establish different 'wor(l)ds' that transforms the visual representation of the political on the far side of the tendency of identity politics.
---
Ergin Çavuşoğlu
Tahtakale, Video installation
2004
Copyright the artist, courtesy Haunch of Venison London/Zurich
Tahtakale focuses on showing an ambivalent relationship of conflicts with particular codes and certain meanings through mapping both the physical and social locations through engaging in multiple networks of production in reference to "situational representation".
Ergin Çavuşoğlu (b. Bulgaria, 1968) studied fine arts at the The National School of Fine Arts 'Iliya Petrov', Sofia in the early 1980s. He consequently received a BA in painting from the University of Marmara, Istanbul, and an MA from Goldsmiths, London, where he now lives and works.
Çavuşoğlu represented Turkey at the 50th Venice Biennale in 2003 and received widespread public attention in 2004 when he was short-listed for the Beck's Futures Prize. Recent exhibitions include Quintet Without Borders, Haunch of Venison, Zurich, Point of Departure, John Hansard Gallery, Southampton, and Northern Gallery for Contemporary Art, Sunderland, Entanglement, Dundee Contemporary Arts, Dundee, the 8th Istanbul Biennial and British Art Show 6 and the 3rd Berlin Biennial.
For more info: http://www.haunchofvenison.com/en/index.php\#page=london.artists.ergin\_cavusoglu
---
Alban Muja
Palestina, Video
2005
In Palestina a young girl from Kosovo tells the story of her name within a realm of the way she understands the reality of her name's history. This also covers the influence of the news dealing with tragic and horrifying events with parallel cases in different geographies.
Alban Muja (b. Kosova, 1980) lives and works in Prishtina. He works as an artist with video and text as well as he works as journalist in the field of contemporary art section for the newspaper "Express".
Muja has taken part in numerous exhibitions; Gallery PM, HDLU Center Zagreb, 1:1 The Interpersonal In Contemporary Art, Neon Gallery, Bologna, Semionauti II - produced by Border Crossing, National Gallery, Tirana, Our Good Resolution Of The Year, Istra, Croatia, Visura Aperta Momiano, Casa de Cultura, Catral/Aliante, Three Different Cultures In Same Place, Nova Gallery, Zagreb, Need A Radical Change, Art workshop Lazareti, Dubrovnik, Love it or Leave it, 3rd International Istanbul Triennial, Istanbul, Alsbach/Manheim, Kunstfreunde.
For more info:
http://www.albanianarts.com/aart/artists\_portfolio.php?id=0000000208
---
Servet Koçyiğit
Out of Focus, Video
2005
The video work Out of Focus documents an ambient sound that remains a document of an action revealing seemingly unimportant details with taking the advantage of its medium to the best effect. It also somehow articulates its transformative potential established within an entry into the "social I of the Symbolic".
Servet Koçyiğit (b. Kaman, 1971) he studied at Gerrit Rietveld Academy, Amsterdam- The Netherlands and got residency: JCVA Jerusalem Center for the Visual Arts, Israel (2005), Wilhelm Lehmbruck Residency, Duisburg- Germany (1999-2000) and De Ateliers, Amsterdam (1997-99). He lives and works in Amsterdam and Istanbul.
Koçyiğit has taken part in numerous exhibitions; Smart Project Space, Amsterdam, The Stability of Truth, 27th Sao Paulo Biennial, Brazil, How We Live Together, Haifa Museum Of Art, Haifa, Israel, Fata Morgana, Gutleut 15, Frankfurt, Uberhaupt-What Dutch, Herzliya Museum Of Contemporary Art, Voices Of Silence, 9th International Istanbul Biennial, Blue Side Up, Gallery 291, London, Short & Sharp, Proje 4L, Istanbul Museum Of Contemporary Art, Istanbul, Look Again.
For more info:
---
Şener Özmen
The Exit, Video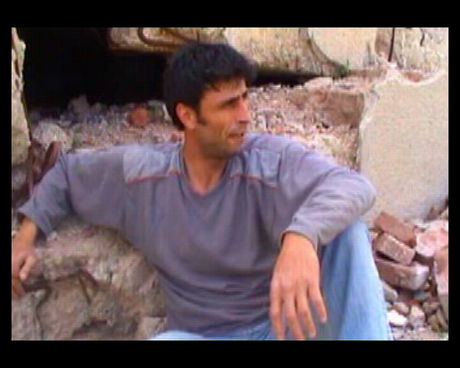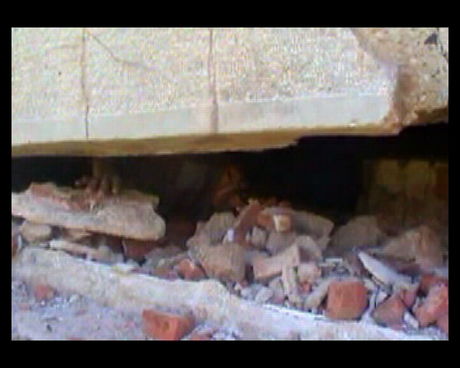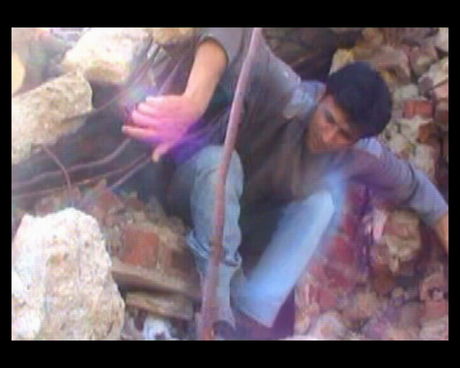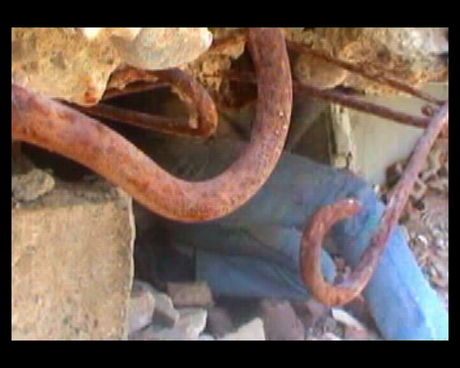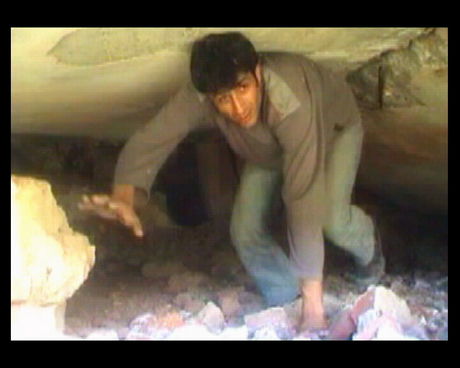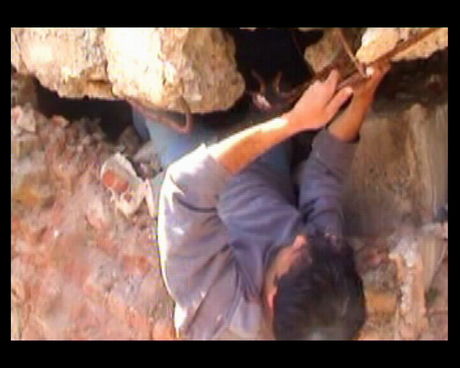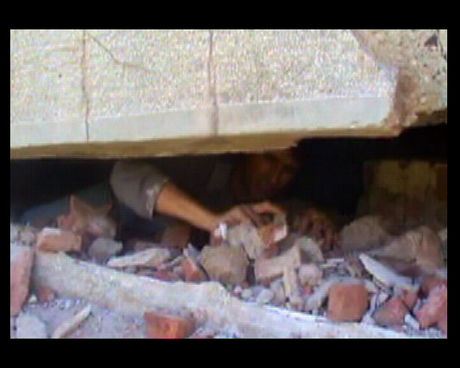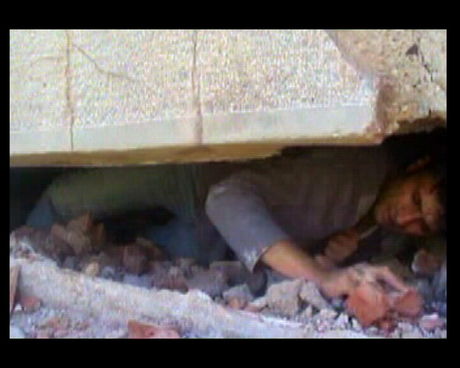 2003
Exit explores a traumatic experience of earthquake in the instance of a situation wherein a young man's performance reflects an engagement at the border of stigmatized otherness while seeking to address the issues of escape and survive.
Şener Özmen (b. Şırnak-İdil, 1971) graduated from Cukurova University Education Faculty, Painting Department in 1998. He is an artist and art critic. He has participated in various national and international group exhibitions as well as published in Turkish contemporary art magazines and periodicals. He lives and works in Diyarbakir.
Özmen has taken part in numerous exhibitions; La Fabbrica Del Vapore, Milan, Short Stories, Proje4L, Istanbul Museum of Contemporary Art, Istanbul, Look Again, Kunsthalle Fridericianum, Kassel, In Den Schluchten des Balkan, Tirana Biennale-2, National Museum of History, Tirana, U-Topos, Cetinje Biennial V, Cetinje, Dubrovnik, Tirana, National Museum of Cetinje, Montenegro, Love It or Leave It, Le Centre d'Art Contemporain, Genève, Ethnic Marketing.
For more info:
http://www.iksv.org/bienal/bienal9/english/?Page=Publications&Sub=SO
---
Nasan Tur
Run, Video installation
2004
The video work Run shows a man running nonstop through an apartment. The film has no coherent story. It rather depicts a state of being with neither beginning nor end.
Nasan Tur (b. Germany, 1974) graduated from Academy of Art and Design Offenbach under the supervision of Prof. Lewis Baltz in 1991 then moved to Frankfurt where he studied fine art at the Academy of Art Städelschule Frankfurt under the supervision of Prof. Ayse Erkmen. He now lives and works in London and Frankfurt.
Tur has taken part in numerous exhibitions; Galerija Nova, Zagreb, Ground Lost, NiMAC, The Nicosia Municipal Arts Center, Nicosia, Crossings, BICA, Brooklyn Industries Contemporary Art, New York, Crossings, Karsi Sanat, Istanbul, Territories of duration, Culture Center Belgrad, Belgrad, Art, Life & Confusion, Badisches Landesmuseum, Karlsruhe, Dialog, Video Art Festival, Moscow, Pusto, Martin-Gropius-Bau, Berlin, Urban Realities : Focus Istanbul.
For more info:
---
Gulsen Bal is a visual artist, theoretician and works as a researcher discussing the differential structures within the ethico-aesthetic paradigm conceived in representational boundaries. Her practice/research hence has focused upon exploring the notions of the "difference of identity" and "difference," minority and exilic discourse and border phenomena in trans-local and/or trans-national location within cultural geography. She has exhibited, curated, published articles and participated in talks in various places and venues in the U.K. as well as in Europe and Turkey.