Babel - Sabato Rodia towers
Adam Nankervis
---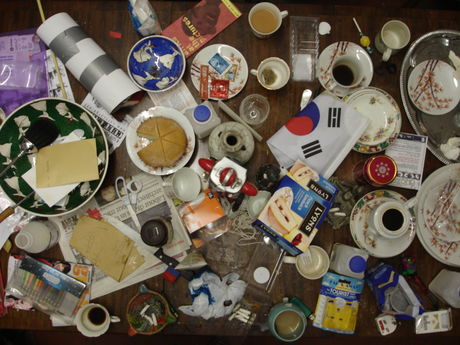 The thick amber smog fog at the base of the valley of Los Angeles West coast USA clouds the civic joy of the stucco prefab plywood facades of mythic yesteryears and the off white endless cul de sacs, bungalows and red hot roof tilers oozing helter skelter, like some dropped and pouring sulphour to the desert yonder and to the feet of Big Bear. Approaching downtown blurred sillohuettes of tin pot Xanadus in rust, and at its core, built on ball bearings, erect blue mirrored towers, the brass and brown of a 40 plus or minus aerial flower with blind view penthouses... Vertigo's town hall, the flat top Geffen Centre and Gehry's Disney Hall. A concert medley all. This spread deck is vast and by nature built for its sliding, pack-the-box final shot.
This is a city built on horizontal head stones.
When I was eighteen and visited my mother in Los Angeles it was coerssion that she drive me from Venice Beach to Watts to see the work of Sabato Rodia. It was at the height of Colours and Crips, switchblade manicures and drive bys. Crack, smack, crystal, coke, smoke and the crumpled smudge of burnt foil. Three boys jumping on the hood of her car was an automatic lock down and a sharp U out of there.
Leaving from The Kodak Plaza Hollywood, a jingle of an all you can eater, a recreation of Griffith's Babel - a plaster cast of this, a Birth of a Nation prepared for its after shock rock steady fall. It was an underground from Vine and an Amtrak from the restored and beautifully haunted Union Station, that last month I ventured to flat land/bad land Watts to the former and newly restored Watts Railway Depot, where on arrival, from a short distance, a transparent tower spikes a sky of a flat prefab rooftop horizon.
Chain fences on wide empty allies, brittle foam couches on brown lawns, Beauty and the Beast, dancing candalabra curtains drawn and sun bleached. Empty bulk buy boxes, bass booms and the bang of the collision of the growling snouts of dogs under their dug hollows of flat iron and concrete.
On this the corner of 107th Street the lattice bare knuckle jewelled webs of three spires rise from a small wedge of suburbia. Here stands an embroided stitch spiralling willy nilly around itself in flourescent canny loops, concaved enclaved shooting spires, receding slides in its delicate mesh of composed fables and romantic histories in knotted mayhem. Broken tiles rainbow arched under Canada Dry portals, headless plasters point to a where, and thens, standing triumphant, as incongruous as a boat sailing through the dunes of the Suez. This medley of the senses is Sabato Rodia's lifes vision - The Watts Towers.
When art is folly and folly art, Sabato Rodia is its master. Born in Italy and an emigree to Los Angeles in the 1920s Rodia was quick to draw on the outpost of the allotments of the then city of Watts a vision of a utopia, a paradisic garden in his own back yard, that would consume and envelope his house, its pathways and saturate every cranny of his tenth of an acre property.
This web has caught the flotsam of the city. The debris of his romance, his love affair of a new world, creating in it a float in a vast celebration of a vessel that is travelling without moving. Its the seduction of all things comunally fraught. Gripped cans, broken spouts, the bosoms of cups, the moons of saucers, the palms of shells. Cores within cores within orbs within orbs. One hundred frosted feet in plaster. The tallest mast, the etheral sister of three.
From smoke dry it becomes a hail of a day, the coldest recorded winter in California. The arches of the external walls are rich in the yellow of a stained sandy patina, the abstracts of the broken green and blue bottles that shave the water in streaming rivulets over the adornments of patterned cans and the mouldings of plates, fluted vase tiles and densely knitted pack mosaics of ochres, blues and the whites of the internal reliefs. Marco Polos ship the cornerstone of the structure is hidden from view.
There seems to be a question of the definition that comes about when Rodias work is scrutinised. the desire to box it in cultural or anthropological constructs. Here is a vessel of the fabulous-one feat away from the rail tracks that were built for cross continental USA that snakes one street across from it. Here within lies the journey in and the journey out. An on the road deluge to a horizon well travelled, and set to dock. An artist's compulsion to create. There is a fragility of its being, and when he abandoned it years after, it was almost a testamant to the impermanence of every man's horizons. Possibly even the ground on which he stands.
He gave it a name. This is Nuestro Pueblo-Our Town.
This on a dead end street.
Adam Nankervis
A cut+paste excerpt from a journal
Los Angeles Febuary 2007, Berlin March 2007