Human Experiments
Dan Mitchell
---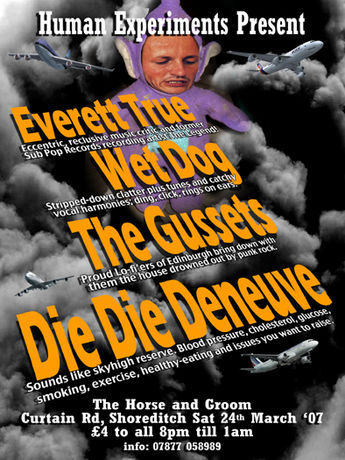 Sophie Politowicz (The Rebel/Wet Dog) and Dan Mitchell (Hard Mag) invite you to an evening of the pursuit of excelling in musical thrills.
As we struggle to understand:
the lies we are told,
the Dark Power that seeps,
that our freedoms are chaining us to the idea of freedom and that this idea is bad,
that the misery from your neighbour is contagious,
that your lifestyle that you were sold is, as was predicted of now, causing cancer of your imagination
that your mind is being poisoned by new and more effective forms of paranoia
that you are reading this thinking 'yeah right, so fuckin' what, I can take it'
We offer you an evening with the solution to those nuanced doubts that plague the beach of your never-ending surf to Sexy music, Bitchy DJs, Confident bar-persons, Rich clientele. Exclamation mark!
If you can not make this appointment then we wish you a night of terrifying dream sequences...
May you dream in slow-motion of your mother and ask her,
"Can I have some meat? Why did you not give me any meat?"
She will decline to answer and instead you'll take refuge in donkey-suckling, using the excess lactic fluid to soften your thighs as the animal whisperings warn you of your stampede into the future.