Travel and work
Brigitte Jurak
---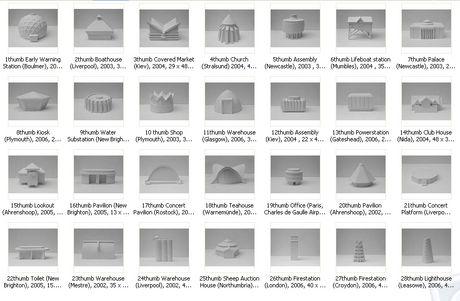 "One of the German words for experience, Erfahrung, is from the old high German irfaran: 'to travel', 'to go out', 'to traverse', or 'to wander'. The deeply rooted assumption that travel is an experience that tests and refines the character of the traveller is demonstrated by the German adjective bewandert, which currently means 'astute', 'skilled' or 'clever' but originally meant merely 'well-travelled'."
Eric J. Leed, 1991:5-6
Ahrenshoop near Rostock
For the first time since re-unification I set foot in the former East Germany. On the shelves of the railway station newsagent in Ribnitz-Damgarten a sizeable number of rightwing fanzines and newspapers, a small number of young people with bleached blond spiky mullets, long in the neck and short on top, black army lace up boots and black drainpipe trousers. In the same station shop, the postcard carousel contains pictures of the nearby town, Rostock. Amongst pictures of thirteenth century brick Gothic churches, town hall, grain warehouses, beach scenes with Strandkörbe, I noticed a rather futuristic looking white building.
Bus 210H, which leaves from the station concourse, is not due for another half an hour. I am the only passenger with luggage, alongside a few elderly ladies with shopping bags and two high school pupils. As the bus leaves the small town the ubiquitous, light industrial zone gives way to the flat expanse of lakes, high standing reed and windswept pine forests. The bus turns off the B-road, along the edge of a mixed forest into which it eventually turns. The stop, which I feared was mine, turned out to be the stop for a caravan holiday park tucked away under the large canopy of trees. The bus turns - none of the passengers disembark - and makes its way back to the B-road.
"The commercial strips are common places lacking the ambiguities and complexities that generally make places interesting. They are 'unifunctional landscapes' which become even more uniform in appearance as large corporations operate chains of look-alike and standardised establishments."
As the bus moves along the slightly raised road, reed-covered roofs, some of which have been immaculately thatched in the previous summer, come into view. Late nineteenth century wood clad boarding-houses, freshly painted in pale grey, azure blue and terracotta red flank both sides of the road. These houses have shingle roofs, or tiles, and wooden verandas, often glassed in. As the last remaining passenger on the bus, I am getting off in Ahrenshoop. Set back from the main street, and slightly raised above the road level lies the Künstlerhaus Ahrenshoop; off-white painted clatter board, two and a half storeys high, the doors coated pale grey.
The Künstlerhaus Lukas, built in the late nineteenth century is the oldest artists' house in Germany and was founded by the painter Paul Müller-Kämpff as a boarding house with painting studios. Initially focusing on female artists that included Anna Gerresheim and Elisabeth von Eicken who were at the time not permitted to train at art academies, it became a boarding house for artists and writers within a village which turned into a resort for artists and intellectuals. Easily accessible from Berlin, artists such as George Grosz, Johannes R. Becher, Edmund Kesting, Uwe Johnson and Hans Kinder descended and enjoyed the summer sketching family and friends on the beach. Not unlike Wopswede, the village of Ahrenshoop is a small, traditional, quiet hideaway.
The artist as a travelling worker has a long history within Europe dating back to ambitious building projects - temples, shrines, churches, cathedrals, castles and palaces. The reputations of the finest and most skilled craftsmen, architects and artists travelled faster than the men themselves, leading to working residencies of various lengths across Europe and beyond. "From the Middle Ages onwards, master craftsmen travelled all over Europe to build cathedrals and palaces, attracted now by the wealth of one city, then by that of another."
Particularly in Germany from the late middle ages onwards, craftsmen and tradesmen who had completed their apprenticeship had to undertake an extensive journey -- Wanderschaft in order to gain experience in different workshops, acquiring regional skills and applying their own skills to new situations and projects. These wandering craftsmen became messengers of regional styles and working practices. Just like bees moving from flower to flower, they transferred knowledge across different regions and across national boundaries. Obligatory to the aspiring Master until Industrialisation , the Wanderschaft served also as a regulating mechanism in a fluctuating labour market.
This form of travel amongst the artisan class was paralleled by the educational Grand Tour of the gentry. Openly secular forms of tourism were first systematically practiced by the European elites in the early sixteenth century. Treatises on travel methods produced during this period address "scholar-courtiers and young aristocrats preparing for diplomatic and legal careers" who went abroad to seek "educational experience at universities in Paris, Bologna, or Padua, as well as opportunities to engage the services of Europe's foremost dancing, music, fencing, or riding masters with whom they would be forced to speak in a foreign tongue". The main aim of travel was to cultivate a discourse with the living and the dead in the appropriate language, and any sightseeing undertaken was strictly "at the service of textual authority".

"Many travellers carried with them a book of blank pages, an Album Amicorum, with which they would call upon men of reputation, begging them to inscribe some words."

Like the travelling craftsmen, the young aristocrats followed clearly outlined travel routes. Whilst the routes of the craftsmen were prescribed by the various guilds, the aristocrats' routes were prepared in depth through reading, acquisition of language, compilation of a systematic list of questions and letters of introduction.

For the purpose of career progression both craftsmen and aristocrats had to embark on these often long journeys. The success of the journeys depended on skills acquired, assignments completed and recommendations collected. The craftsmen returned with drawings, small showpieces and letters of recommendation. The aristocrat returned with diaries, written recollections of learned conversations, notes from observational studies, language skills, a more thorough understanding of the literature read and the Album Amicorum.
Between the late sixteenth century and the eighteenth century treatises on travel methods shifted from a scholastic focus upon touring as an opportunity for discourse, to enthusiasm for travel as "eyewitness" observation. In the course of this shift from the 'ear' to the 'eye' as the primary sense to yield direct, unmediated, and personally verified experience the minutely comprehensive descriptions of the visual experience had become proof of a successful journey. Thus travellers returned with souvenirs such as fragments and artefacts of antiquity, specimens of nature, curiosities and later vedute.
The artist as a travelling worker and intellectual can be seen as a hybrid between the journeyman and the travelling nobleman of Europe. Artists are travelling and taking up temporary residency with their tools: pencil, video camera, brushes, chisels, camera, plumb line or computer. Following invitations, recommendations and the prospect of work, artists relocate regularly for different lengths of time to produce work. In the past, this work was fixed to a particular place (frescos, buildings, sculptures, mosaics); increasingly mobile modes of work (painting, film, video, print, sculpture, and performance) have enabled less permanent bonds with the place of temporary residence. Artists, just like journeymen and aristocrats, return home in the knowledge that they have completed a commission, established contacts, enhanced their reputation and gained some insight into previously unfamiliar places and cultures.
As for men of the seventeenth and eighteenth centuries to whom travel became a pre-requisite to launch international scholarly reputation, the artists of the late twentieth and early twenty-first centuries have to travel to launch and sustain a career. "All active participants in today's cultural world are now expected to offer their productive output to a global audience, to be prepared to be constantly on the move from one venue to the next and to present their work with equal persuasion, regardless of where they are. ... we are now prepared to be attracted and persuaded particularly by artistic strategies capable of producing art that achieves the same degree of success regardless of the cultural context and conditions in which it is viewed."
My studio on the lower ground floor, with views into the garden, is rather small. It later turns out to be the biggest one in the house. The ceiling is low and as it measures only 3 x 5m, with a small adjacent room of 1 x 3m, I have to overcome my disappointment. Thanks to the big windows and a glass door there is at least the illusion of a studio large enough for four weeks in which to think and work.
On quite a few occasions, I have to step into the corridor or the garden to be able to see the work in progress despite its rather small scale.
George Frederic Watts working in the late nineteenth century on Physical Energy supervised the building of a small railway which enabled him to role a monumental life size plaster horse out of the studio barn in order to study its progress.
The garden, nothing more than an unkempt lawn, is flanked on one side by the extended house and garden of the adjacent bakery and on the other by the garden and car park of a bijou hotel. To the rear, only a thin wire mesh separates the garden from a grazing field framed by last season's weather-beaten reed. On the damp, cold mornings of April the sweet smell of yeast from the bakery dances into my nose, a smell that takes me immediately to the place of my childhood, a flat, high above a bakery shop and a mother keenly involved in weekly baking.
At the bakery a young apprentice worked alongside her employer. Soon, we, the temporary residents of the Künstlerhaus Ahrenshoop, became regular shoppers at the bakery. Artists, returning with trays of traditional apple cake or bags of fresh roles provided recounts of the apprentice's changing moods in dealing with the public. She became our Bäckerblume , who we visited daily for cakes or bread rolls. The manner with which she served us, her looks and her attire, seemed to have turned her into a personification of a country and its people in transition. She was East German and West German in one. Unlike her employer, who resolutely rejected the recent past, embracing the new found riches of a family run business, the apprentice with her Marilyn Monroe hair arranged in an interpretative manner by the local hairdresser, was rude to costumers and obliging only to her employer.
In the 12 years between the breaking of the Berlin wall and my working stay in this remote East German part at the Baltic Sea a radical Bildersturm had taken place. Every bus stop, train station ticket counter, post office, supermarket, road surface was the same as anywhere else in Germany. As if, over the past 12 years every city, every council and every individual person had spent their savings and the reunification tax on the most comprehensive clean-up operation, eradicating nearly everything which looked pre-1989 and post-1945. My disappointment was profound; I don't know what I had expected after such long absence, but most certainly not such a tabula rasa.
Of course, those who search will find and I cycled and combed the land for that which I had not seen. Within the picturesque, gentrified and thoroughly 'westernised' village remained one local eyesore and subject of much speculation: the former Strandhotel. The hotel was built at the height of socialist mass tourism, with sweeping staircases, ballrooms, expansive kitchens and suites with uninterrupted views of the sea. The remains of the wallpaper, lighting and furnishing all spoke of an era of confidence: luxury without pomp, comfort without plush; a kind of Butlins of East Germany.
As I walked through moss and fern covered rooms, into stores with crates of unpacked hotel china, the empty ball room with its grand windows overlooking the sea, the large kitchen and service areas, vandalised but still perfectly recognisable with their different spaces for food preparation and storage, my throat tightened. Here, at last, a wound, an unresolved relic of the past; the smell of cognac in thin etched East German cognac glasses intermingling with that of the rising damp. The large panorama windows had turned foggy, and artists -visiting, non local- had climbed over the haphazardly erected fence, walked through the ruins, and sifted through the remains. I went back two or three times, with increasing anguish, since I realised, that only visiting artists marvelled at this ruin of the recent past. The distance of time and space allowed us to see a tragic beauty in this functional cast concrete, pebble dashed block.
In the first ten years of re-unification with Cromwellian eagerness the length and breadth of the East German infrastructure was westernised: fitted kitchens and PVC windows, Opels, Fords and Volkswagens pushing their predecessors onto the scrapheap. Transformed like Aschenputtel (Cinderella), soot encrusted buildings gleamed with their sandblasted and washed down facades and cobbled stone pavements were excavated. Cities of the Hanseatic League with their brick Gothic townhouses and squares and cities with medieval and baroque centres appeared in their freshly painted beauty like long forgotten treasure boxes from under the floorboards.
A little further along the beach, the sea had reclaimed a WW2 bunker from the eroding clay cliffs, its concrete remains emerging daily out of the tidal stream. Perched on the cliff's top, lifeguard posts in white wooden clapperboard; difficult to date but most certainly pre-unification and post WW2.
In the expansive woodlands, slowly eaten by the sea, a mushroom shaped reed roofed shelter, post 1989 but in what we are led to believe is a Baltic coast vernacular. The surrounding pine trees bear the herring bone pattern of cuts carved to extract resin. Diagonal incisions each run into a centrally carved line. The bottom of each line is connected to a pot attached to the trunk with wire. These marked trees fascinated me as a child on our annual holidays in the most rural parts of East Germany. I remember that I thought it was cruel, it felt like bloodletting, like hurting the trees, and it was only on these holidays that I came across this practice. And here they were again those feathered lines, some longer some shorter on every pine, as far as the eye could reach.
The lights at an abandoned campsite predated 1989. My search brought me back to Rostock, since the building I had noticed on a postcard was to be found there. Not Rostock itself, but its adjacent seaside resort Warnemünde provided at long last a genuine masterpiece of post-1945 and pre-1989 architecture. Approaching the building, I saw that a rescue plan was underway: a decision had been made not to destroy, but to keep, to repair, to use again.
Located at the mouth of the river Warnow, where river and sea merge, nestling behind low dunes covered in silver green sharp Marram grass, stands a round tearoom with the most extraordinary floating concrete roof: much better than on the postcard. Though a building fence had been erected around the café and restaurant that is known in this region as Teepott , I was able to get close enough to feel the airiness, exuberance and audacity of the building; like whipped cream on a standard cup of hot chocolate. This round building marks the end of a conventional row of harbour buildings, celebrating the open vistas of the sea and the widening stream, totally new and yet so much part of a time when seaside resorts were regarded as sophisticated places of leisure, well-being and fitness. Leaving the Teepott with a roof that could be compared to the head cover in Petrus Christus' Der heilige Eligius in der Goldschmiede (1449) , I pass villas and boarding houses of the nineteenth century and enter the geometrically ordered Kurgarten.
Low boxwood hedges frame the manicured lawns, long shallow water basins alternate with modest Roman fountains quietly spitting water. Gravelled paths connect the Kurhaus (1928), elegant in its horizontal rational Modernity, with the curved roof of the large white bandstand shaped like a mussel (2000/01). Wooden benches with forged metal legs are lined up in rows; their elegantly curved feet pierce the white gravel. Exhilarated by my find I returned to the studio.
While the photographs of the abandoned hotel were full of nostalgic yearning and an underlying belief in the uplifting nature of the ruin, the lifeguard posts, the shelter in the woodland, the tearoom and the concert pavilion were very special places: built structures for leisure pursuits, roofs and shelters for people on the move, small private Idahos.
In fact, buildings designed as part of an infrastructure for tourists and the weekend summer guest. These buildings are not crowded in; instead they stand in isolation that is specific to their locations: the clearing in a forest, the mouth of a river, the top of a dune, the end of a formal garden.
These buildings were designed to be viewed with spatial distance in mind: the panoramic windows of the Teepott provide sweeping vistas of dunes, sea, river, harbour and the Kurgarten. The pale grey of the three waved leaves of the roof can be seen from afar, even from the decks of incoming boats and ferries. The curved shell of the bandstand transmits the music along a straightened path. The Grosse Stern, a rain shelter that functions also as a marker of a major path junction within managed woodlands, can be seen from great distance and is included on the map. The lifeguard post with its large windows high above the dunes is designed to give uninterrupted views of the shoreline. Simultaneously it doubles up as an orienteering point for beach walkers and swimmers along the monotonous coast.
These buildings function as contractions; pauses in an otherwise endless sentence.
Plymouth
Only two people remain on the flight from Newcastle to Plymouth and my fellow traveller and I walk down the narrow metal staircase, rolled against the small airplane in darkness. Rather than making us wait, as luggage is spat out onto snaking conveyor belts, our two suitcases are pushed through a little hatch in the wall that lead onto a table of metal rollers. I once had a similar experience at Knox International Airport, also in the dark. My fellow traveller had kindly ordered me a taxi, whilst the airplane made an interim stop at Cardiff. At this time of night, after 10 pm, there would be no bus leaving this former polo field.
In der Nacht sind alle Katzen grau; arriving in darkness allows for surprises in the morning.
The next morning, in the crisp light of the cold February sun, I turned the corner from my Georgian B&B and was transfixed. Never before had I been in a British city that looked so much like a strange hybrid between a former East German City Centre and a rebuilt town in the Ruhr area.
Walking down Armada Way, a thoroughly planned pedestrian boulevard, passing white birch trees and low rectangular fountain pools with almost turquoise painted interiors shining in the most striking sky blue, a remarkable pale grey fourteen-storey City Council building rises on stilts into the sky. This rhythmical composition of verticals and horizontals is counterbalanced by the much lower, equally pale grey Crown and County Courts, with a large laced Dalle de Verre façade.
Armada Way dips into an underpass with colourful nostalgic depictions of the history of Plymouth, re-emerging into a wide boulevard, flanked on either side by glowing white buildings. Horizontally stretched windows cut along the curved Portland stone façade of the Dingle Building and its twin, the Pearl Assurance Building. Empty flagpoles, held in place by brass braces weathered to a turquoise green, rise from the four storey blocks into the very blue sky. My stride becomes light as I am drawn through this thoroughly modern space, all in shades of white, gleaming in bright sunlight.
After the dark hours of destruction, the utter annihilation of vast parts of Plymouth and its people by the German Luftwaffe, the city re-emerged out of the ashes over a period of approximately fifteen years as a white, new and modern city with airy wide shopping parades and sweeping boulevards.
Acknowledging that every place looks stunning in the light of the lower standing winter sun, I walk past the elegant Portland Stone facades towards the University. Just before negotiating myself through an array of underpasses and walkways, an unassuming kiosk, standing on the no man's land between the commercial and the academic district, on the other side of the heavily fenced off dual carriage way, comes into sight. This small free standing tapered hexagon has a slightly sloping felt roof and each wall is almost entirely made out of windows covered with cream coloured shutters.
Turning left at the Kiosk, around the now demolished rear of the late sixties Drake Circus shopping centre walking towards the Bretonside Coach Station, a circular building, with the most daring zig zag roof like an inside out orange press appears. This building forms the visual endpoint of a two level walk way, whereby the lower level serves as a waiting bay for the coach station.
A few weeks later, during my second visit to Plymouth, a demolition company had moved into one of those beautifully planned boulevards of Abercrombie's master plan, to hack away white horizontal surfaces. I had just managed to wander the streets of Plymouth, prior to the next wave of optimism and its subsequent build articulations of the David MacKay plan to demolish, redesign and rebuild areas of the city centre by 2020.
In 2004 the gleaming white pedestrian city centre and a spectacular Art Deco Lido, nestling in the rocks like those found along the Amalfi Coast, seemed to belong to a time that regarded itself as decisively modern, still bathing in the white horizontal layout of British modernism, teetering on the edge of becoming more colourful; a Mini Manhattan.
The David MacKay plan states the need to build taller buildings, quality landmark buildings, shared attractive spaces and a better less car-focused transport structure. The city centre of Plymouth is seen in "parallel with the re-generation that has taken place in the northern cities such as Glasgow, Manchester, Liverpool, Newcastle and Leeds where 20 years ago the city centres were deserted with large derelict warehouses awaiting refurbishment. Now these areas have been rejuvenated with mixed used schemes of inner city loft living, bars, studios and galleries".
Like the plans for Liverpool and Merseyside the MacKay plan is backed by large development conglomerates. The plan states the need to develop mid rise and occasional towers within the Abercrombie grid and regards this as an opportunity to create a Mini Manhattan. It "seeks to combine a discreet evolution of traditional elements with radically new architectural models", and ascertains that no "protectionist policies" should constrain this significant opportunity to build the Plymouth of the twenty-first century.
Odessa
The distinct smell of overnight trains throughout Europe, train toilets with their foot pedal mechanisms stuck to allow views of the fast moving pattern of wooden beams, smooth iron tracks and broken granite. Lingering in the corridors looking out into the fast disappearing landscape staring through my reflection on the glass into darkness, whilst fellow s arrange themselves in the various berths, the chu-chu-bum, chu-chu-bum of the wheels on the tracks amplified by the skull in half sleep, an oversized samovar and the traveling night officers in immaculate uniform. On the standard class couchette on the night train from Kiev to Odessa, a small thin terry towel and a complimentary hot amber-gold tea helps to ease the strain, this twelve-hour journey puts on everyone.
Arriving in Odessa, leaving behind the grand white terminus by crossing the large central station square, following a stream of people through a hot and busy under path, a green grid of streets offers its parallel set of choices. Largely designed and built between 1794 --1907 I was stepping into an elaborate stage design for a French nineteenth century play.
In August 1794 the foundations for the first house of the future Odessa were laid. Odessa's building boom between the late eighteenth century and the beginning of the Crimean War (1854-1856) commenced with José de Ribas. The city was designed and built under the governing powers of an eclectic mix of European counts, dukes and generals starting with Duke Arman-Emanuel du Plessis de Richelieu , General Thomas Coble (Scottish Military Commander of Odessa), Count Louis-Alexandre-Andrault de Langéron , Count Alexander Grigorievich Stroganov (1795- 1891), Count Michael Semenovich Vorontsov (1782-1856), Nikolai Aleksandrovich Novolselsky (1867-1778) and Grigory Grigorievich Marazly (1831- 1907). This succession of men determined to build a city with a French flair and amenities for the modern urban dweller attracted by the thriving Free Port were responsible for this extraordinary set piece of sweeping boulevards, malls, palazzos, theatres and tenement blocks richly decorated with stucco, some of which restored others crumbling and propped up by semi permanent scaffolding.
Each street in Odessa is lined with its own species of trees of which some may have been watered by the first Odessa builder the Duke Arman-Emanuel du Plessi de Richelieu. Nearly two hundred years later I admire the foresight of these men, and wonder why such a good example of town planning has not found many copies. A trail of country roads flanked with poplars fanned out from France into Germany and beyond, marking the path of the Napoleonic invasion that resonates in the marching rhyme about a poplar avenue:
Klotz, Klotz, Klotz am Bein, Klavier vorm Bauch, wie lang ist die Chaussee! Rechts ne Pappel, links ne Pappel, in der Mitt' ein Pferdeappel.
Durch die Mitte der Natur zieht sich eine Pappelschnur. Rechts ein Baum, links ein Baum, in der Mitte Zwischenraum.
During the summer the mature trees, often planted in double rows, provide a dark shady canopy over the curiously car free streets and the generously wide footpaths. The foliage is so thick and dense, that it rarely allows glimpses of the high rising stucco facades behind. Catalpa and Chestnut trees line Ekaterininskay; Lime, Maple and Horse Chestnut flank Primorsky Boulevard; Deribasovskaya Street is shaded by Lime trees and Pushkinskaya is lined with hundreds of Sycamores. When I arrived in August, the Japanese Pagoda trees on either side of the Shevchenko Avenue exploded in the most spectacular scented silent firework display. Thousands of slightly creamy white pea-like blooms hang in clusters, each about 35 cm long above the dark green feathered foliage. Walking under the scented arches I caught a glimpse of the exhilarating act of promenading as practiced by the people of Odessa and Kiev. Small buildings interrupt the ordered rows of trees in front of uninterrupted lines of tenements with oversized heavy wooden doors and deep cut archways. These are kiosks with elaborately shaped octagonal green, red or blue zinc roofs, their windows covered with magazines, lotto tickets and sweets, their inside occupied by one or two people, serving a stream of customers through tiny hatch doors. These buildings are firmly integrated into the town's squares, boulevards and promenades. Kiosks in all shapes, sizes and materials; moulded plastic, timber, cast iron, steel frame, zinc, stone and glass, they function as small playful vignettes, essential footnotes, afterthoughts, punctuating the long and straight roads, combining the need for physical refreshment with visual pun and arabesque. Some barely measuring more than 150 x 200 x 200 cm, occupying the same space as a small group of people, they appear like anchors in the stream of movement and people come to rest in their vicinity. Manned by women or men they are cheap, safe and sociable places to hang out; all kinds of meetings are arranged at the various octagonal kiosks throughout town.
These structures are fundamentally different from the mobile convenience food caravans ubiquitous to many towns in Britain, changing location with the daily and weekly cycle of events that require refreshments. The Ukraine kiosk is permanently fixed to the ground often linked or in close vicinity to tram, bus or subway stations or in close proximity to parks and beaches. In the often minute interior the owner or employee sits like a pea in a pod, and even as a child I often wondered to what elaborate arrangements each kiosk worker had to come with his or her neighbours in order to gain access to private convenience, water and electricity.
In the centre of Liverpool are a number of 'holes in the wall', tiny glory holes occupied by one worker or owner, a simple chair, boxes of crisps, newspapers, chewing gum and a kettle. These places serve an entirely loyal cliental of workers on their way to and from work. Squashed between the giants of the retail industry, or adjacent to large office blocks they make the transition from home to work and from work to home more personal. The familiarity between staff, customers and transaction, buffers the impact of the anonymous city.
I did not spend long enough in Odessa to say with certainty which social urban sphere the permanent kiosk occupies. Their modest size amongst the large trees, grand tenements and palazzos often elaborately dressed in stucco and topped with turrets, provides human scale. The kiosk's parasol shaped roofs and hatches propped wide open, the display of products and the seductive smell of sugary stuff gives them an irresistible toy like quality.
After word
Wenn einer eine Reise macht, dann kann er was erzählen (German proverb).
(When someone goes on a trip, he has something to talk about.)
The travelling artist undertakes numerous pilgrimages in order to work. Surveying places of temporary residency head-on, frontally and with a sense of factuality that has its origins in the topographic prints of seventeenth century Rome and the cork models of Antonio Chichi, souvenirs stiffened in white plaster show landmarks of Swansea, Ahrenshoop, Liverpool, Newcastle, Glasgow, Kiev, Rostock, New Brighton, Croydon and London. Distant views of buildings that "predate the era in which multi nationalism has spread its own uniformity" are initially photographed, modelled in clay and subsequently cast. Emphasis is placed on the collection, on a predetermined methodology and on a renunciation of an aesthetic hierarchy. They are modelled in a curiously detached factual manner that can be found in the photographs of Karl Blossfeldt. His work communicates, in its rigid clarity, the paradox whereby the most distanced, objective use of the camera is precisely that which releases most successfully the transformational and associative properties of the photographic work .
The small Nachahmungen (emulation, resemblance) of market halls, pavilions, towers, assembly rooms and utility substations have the quality of a Bestandaufnahme (stock taking of the situation at hand). Lined up in close vicinity to each other and easily arranged in different groupings they allow for direct comparative study of types of buildings found in different locations.
As souvenirs -- or keepsakes - they are tangible evidence of travel and temporary stay. They help to convert given reality into experienced reality and are therefore an indispensable part of all experience. They provide cues by which to relive the experience at a slower pace.
The white souvenirs of landmarks in Liverpool, Newcastle, Glasgow, Kiev, Ahrenshoop, Swansea, Plymouth, Rostock and New Brighton also represent the transformation from the public realm to a more private one. They are not only proof of the successful completion of a journey but also Ersatz for a more precious object that can't be taken away from its location. They are also elevating the overlooked and at a time where objects, buildings and people have appeared progressively more expendable they are motivated by the desire to preserve the common, the building where anonymity is accepted to be the style and "whose peculiarities originate not in spite of, but because of the lack of design" .
---
Notes
Wopswede, a small town located in the Teufelsmoor (Devil's Bog) near Bremen, became an art colony at the end of the nineteenth century. Permanently residing artists included Fritz Mackensen, Otto Modersohn, Paula Becker-Moderson, Fritz Overbeck and Carl Vinnen. Visiting artists included writers such as Gerhard Hauptmann, Thomas Mann and Rainer Maria Rilke. Since 1971 a funded artists in residence programme for artists has been in operation. Over 400 artists from some 35 countries have been guests at the Künstlerhäuser Worpswede since 1971.

Duration and route of the Wanderschaft, guild clothing and means of transport (often on foot) were prescribed by the various guilds. Journeymen and masters were obliged by oath. Payment, lodging and duration of individual assignments were also regulated. Research into the history of Migration shows that within Europe, religion, language and existing travel routes and the attraction to population centres had large influence on the journeys undertaken. In contemporary Germany Wanderschaften are still undertaken by members of some guilds (e.g. specialist roof joiners).

It is interesting to note that artist residency programmes will often mention, that although workshop facilities/Internet connections are available, artists are advised to bring their own tools.

Some of these artefacts are intrinsically mobile; others are intrinsically fixed to a particular place. The rise of video work at the end of the twentieth century may also be understood in relation to the required global mobility of artists and art work, costs of shipping and import/export regulations.

The nature of the temporary residency supports a mobile identity. "Thus we now all live in a world city where living and travelling have become synonymous, where there is no longer any perceptible difference between the city's residents and its visitors." Ibid.

George Frederic Watts (1817-1904) also initiated the building of a sculpture room large enough to house the 1:1 plaster model of Physical Energy at the Watts Gallery, Compton.

Sigmar Polke refers in his essay Frühe Einflüsse, späte Folgen oder : Wie kamen die Affen in mein Schaffen? Und andere ikonographische Fragen to the Bäckerblume, the weekly magazine published by the guild of bakers. He mentions his painful memory of the family gathering around the pictures of tempting bakery products, pointing at delicacies and Polke- the young boy- not being able to recognise anything other than dots. Polke (1997: 285).

The East German cities of Stralsund and Rostock belong to the Hanseatic League that includes Hamburg, Lübeck and Bremen. Baroque centres are located in cities such as Görlitz, Weimar and Schwerin.

The picture postcard often flattens and distorts notions of scale, texture and location of the depicted object. Urry refers to these images as ideal representations of the view. "What people 'gaze upon' are ideal representations of the view in question that they internalise from postcards and guidebooks (and TV programmes and the internet)." Urry, 2002:78

Built in 1967/68 by Ulrich Müther (1934), Erich Kaufmann and Hans Fleischauder. Müther is now widely recognised as one of the four pioneering architects in the development of concrete shell constructions.

The Civic Square in Plymouth, designed by Geoffrey Jellicoe, completed in 1962 is a grade 2 listed landscape area. www.english-heritage.org.uk/upload/pdf/74_Post-World_War_II_Landscapes. pdf The Civic Centre building designed by architects: Jellicoe, Ballantyne and Coleridge opened to the public in 1962. Armada Way forms part of the post-war master plan for re-building Plymouth developed by James Paton Watson and Sir Leslie Patrick Abercrombie.

The Law Courts, designed by H.J.W. Stirling opened in April 1963.

The Pearl Assurance Building was designed by A. F. French (Plymouth and Bristol) working in conjunction with T. S. Tait (Burnett, Tait and Partners, London), architect of the Dingle building. Both were built along the Royal Parade (1948-1952).

The city was extensively blitzed during the Second World War. More than 1,172 people were killed and 3,269 people were injured. The two main shopping centers and nearly every civic building were destroyed, along with 20 schools and 40 churches, 3,754 houses and a further 18,398 seriously damaged. In the midst of the devastation a wooden sign was anonymously posted over the door of St Andrew's Church saying simply "Resurgam" ("I shall rise again"). www.plymouthdata.info

The 'old' Drake Circus built in the early seventies, a stern underused concrete block with a circular adjacent concrete car park was demolished and replaced by the new Drake Circus shopping centre in a brightly coloured construction mode. The new appearance of the Drake Circus shopping centre is subject to much criticism, claiming that it spoils the city with its garish colors. Others, however, say the centre forms a backdrop to the church and creates a striking juxtaposition of traditional and modern architecture. www.bbc.co.uk/devon

Due to be demolished as part of the 'Vision for Plymouth' plan launched by architect David MacKay, and fully backed by Plymouth City Council which is set to see areas of the city centre demolished, redesigned and rebuilt by the year 2020.

"Lifting spirits, raising expectations and demanding the best of architecture, design and development, ensuring that imagination and vision respect and respond to the opportunity and potential that is offered by this unique waterside city will ensure that within the term of the 20 year vision it fulfils its place within the European cities of equal size." http://www.plymouth.gov.uk/the_mackay_vision.pdf

The Tinside Lido at the Hoe (1935) was saved from the brink of destruction through neglect after grade 2 listing in 1998 and subsequent partial refurbishment and can be reached on foot in 10 minutes from the city centre.

The new Drake Circus is the result of a 200 million pound private investment by P&O Estates Ltd. and Morgan Stanley Bank. P&O has developed over 2.3 million m2 of property. Their projects include shopping centers, industrial estates, business parks and major mixed use urban regeneration schemes. www.portal.pohub.com/portal/. The Peel Group, another leading property and transport company in the UK, owns in Merseyside alone Mersey Harbors, Birkenhead Docks, Liverpool Airport and large areas of downtown Liverpool. www.peelholdings.co.uk

"It (the Watson and Abercrombie plan for the city centre) must be conserved, not as a fossil but rather alive to the present circumstances and shift in cultural values." www.plymouth.gov.uk/the_mackay_vision.pdf

The new town was built near the than Turkish fortress of Hadjebei. Archaeological investigations within the territory of the modern Odessa have shown traces of ancient Greek settlements.

Ribas (Spanish/French/Irish) (1749 -- 1800) served as officer in the Naples Army before joining the Russian fleet. He was instrumental in setting up the new seaport (Odessa). Richelieu, became the first governor of Odessa (1803). He commenced the development of an infrastructure supporting the seaport. He invited traders and artisans from Germany, Switzerland, France and Greece who built Odessa as a European City. (Odessa, The Almanac, 2002:6). He founded the Lyceum, the first town theatre, parks and public gardens. He is remembered as the "Gardener of Odessa".

Langéron (1763- 1831), governor until 1823 opened the Richelieu Lyceum. During Langéron's tenure, the construction of the Odessa Botanical Gardens and Primorsky Boulevard began. The most far reaching legislation in Langéron's term was that the port of Odessa was pronounced a Free Port in 1819, a port that allowed the selling and storing of imported goods with no customs duties.

http://www.umwelt.org/robin-wood/german/wald/baum2006/inhalt.html. These marching rhymes translate as: Block, block, block around the leg (to tie a millstone around one's neck), a piano strapped to the belly, how long is the avenue! One poplar on the right, one poplar on the left, horse droppings in the middle. A string of poplars cuts right through the country. One tree on the right, one tree on the left and a gap between them.

The Regent variety of the Sophora Japonica performs well in urban polluted areas. www.hort.uconn.edu

Within Ukrainian business regulations one person businesses can be easily set up. www.odessaguide.com

Karl Blossfeldt (1865- 1932) pioneered close-up photography. In his career of more than 30 years, he photographed nothing but plants, or rather, sections of plants. Blossfeldt's botanical photographs, were first exhibited at Berlin's Gallery Nierendorf in 1926 and were published in several illustrated magazines and books on architecture and design theory. The 1928 publication of Urformen der Kunst (Archetypes of Art), a stunning collection of extreme close-up photos of plants, earned Blossfeldt a place as a pioneer in the New Objectivity art movement. The book received enthusiastic responses from both literary circles and the general public.

"Als Bestandaufnahme haben die Modelle (des Antonio Chichi) heute ihre Bedeutung vor allem auch darin, dass sie es ermöglichen, die verschiedenen Bauwerke einer Stilepoche.... zu unmittlebarem Vergleich nach Belieben räumlich nebeneinander zu sehen." Büttner, 1975:11

Lingwood, 91