Beautiful Ugly Violence
Margaret Harrison
---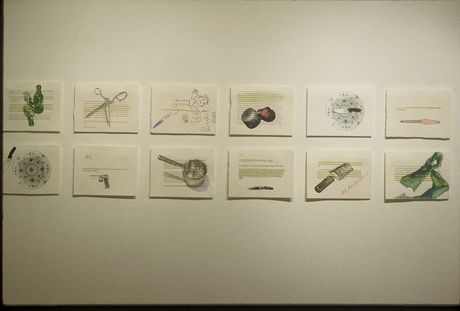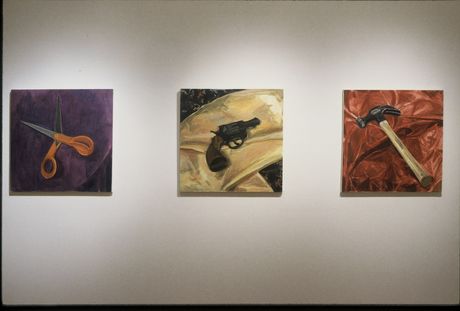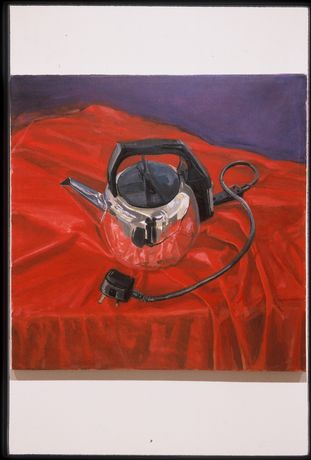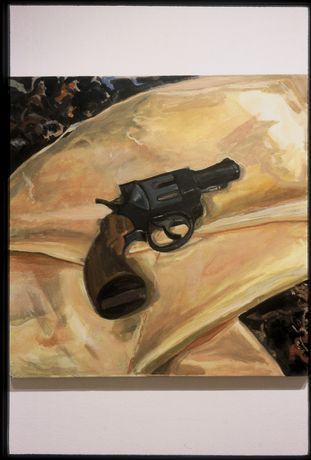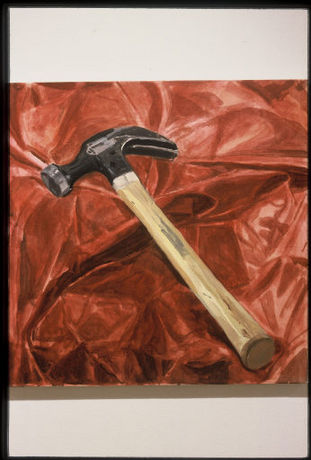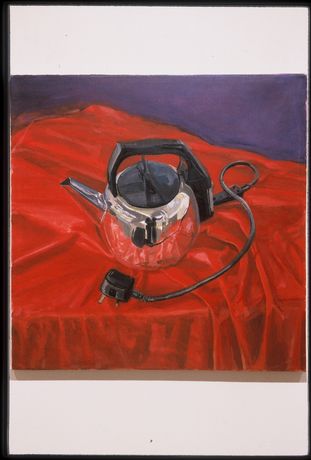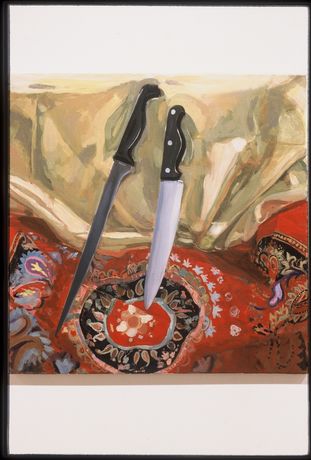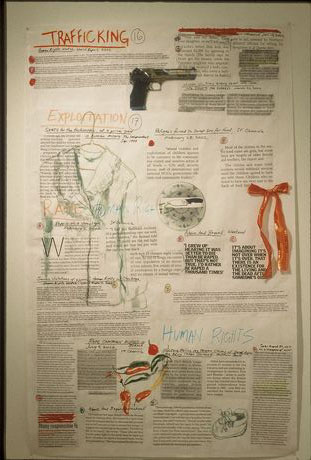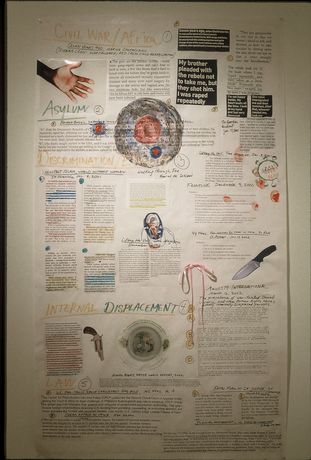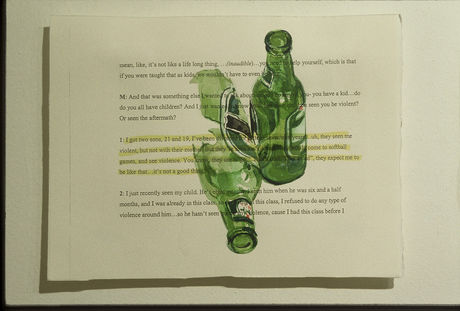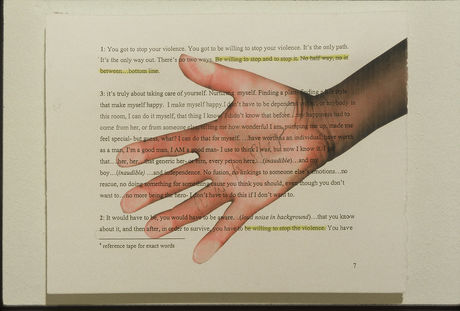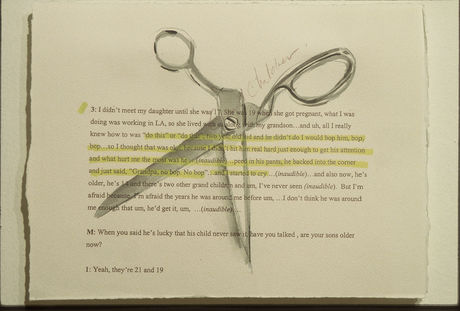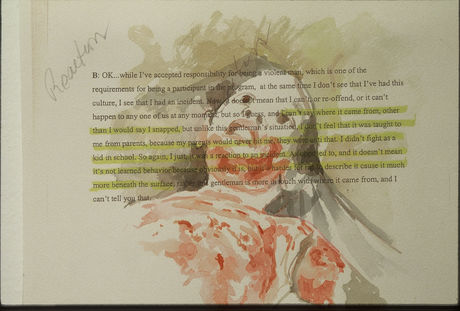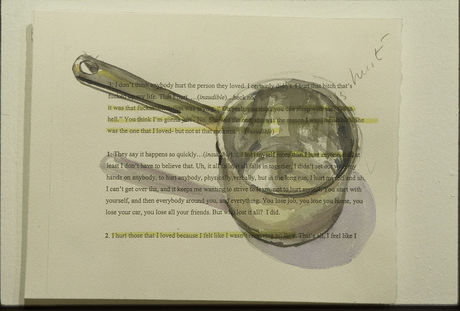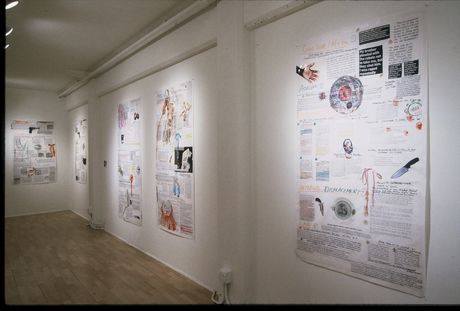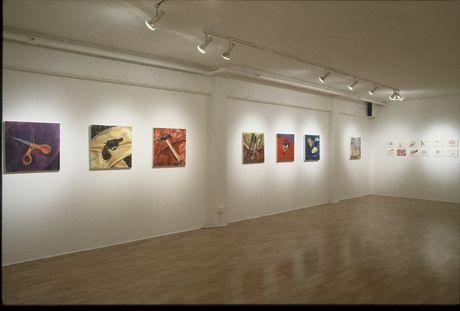 Violence isn't Always Ugly at First
Catalyzed by the burgeoning feminist consciousness of the 1960's and 70's, pioneering British painter Margaret Harrison - like many other women artists of her generation - clearly saw that any aesthetic existed as an interaction within a larger social system, leading her to hope for and work toward "a society in which art was not separate, where it could be integrated into the whole fabric." In 1970, she was one of the founders of the first London Women's Liberation Art Group. She came of age as an artist during the heady years of pop, minimal and conceptual work, and had her first one-person exhibition at Motif Editions in London in 1971. She exhibited a set of drawings that used image-reversal in order to subvert the stereotypical images of men and women used in advertising and soft-core porn. One drawing in particular showed Hugh Heffner of Playboy fame as a Bunny Girl, with a Bunny penis. The exhibition was shut down by the police after a single day because the images were deemed "offensive."
Harrison creates her work only after doing rigorous research and thorough analysis. The issues that she explores are not merely relevant to sectorial or temporary interests, but rather are universal and timeless. She has produced bodies of work dealing with homeworkers, rape and domestic abuse, war's impact on women, fame and celebrity status, and beauty as depicted by the cosmetics industry, and has exhibited her work in many high-profile institutions, including the new Museum of Contemporary Art and the Tate Modern. She places women's experience in a wider, global context, one increasingly characterized by migrations, displacement, and evictions from the local due to global situations. Whereas some feminist artists still present overt arguments of gender politics, or utilize subjective self-revelatory approaches, Harrison remains personally invisible beneath the transparency of works which, at first sight, appear to have no political content at all. Her work uses a low-key approach which exposes exploitation and abuse, whilst merely appearing to present us with unexceptional images of the everyday. Her insistence on aesthetic value is strategically key to the impact of her work. Hers is an art of provocation and displacement, of conceptual and visual systems in which the gears do not quite mesh. In her calm and balanced compositions, Harrison injects a critical perspective that may escape the eye upon first glance. Yet it is in this tension of beauty and criticism, aesthetics and politics, that her work exudes its power and persuasiveness.
"Beautiful Ugly Violence," a new exhibition on view at San Francisco's Intersection for the Arts through May 8, 2004, consists of a new suite of oil and watercolor paintings and mixed media collages that demonstrate the links between the many forms of violence against women that occur across the globe (not just domestic violence, rape, and incest, which are familiar in the U.S., but also dowry burnings, genital mutilation, sex trafficking, murder of infant girls, honor killings, impregnation as an instrument of war, and enslavement of women due to extremist religious beliefs). Harrison shows the interconnectivity of different cultural, societal, religious, and political institutions that restrict, impair, and deform women and the ways in which they relate to each other (such as illiteracy and poverty). Unsatisfied with the overly simplistic "victim" feminist debates of the 1980s, Harrison intends to start a range of dialogues that go even further. She explores the intricate relationships between violence in the domestic realm and in the larger global economic/political realm and portrays the complexity of these factors through Beautiful Ugly Violence.
Her paintings in Beautiful Ugly Violence are seemingly simple and somewhat innocuous. The main body of oil paintings are well composed still lifes of objects: open steel scissors with a bright orange handle laid upon purple cloth, a dark grey handgun standing alone on a luscious golden bed of fabric, a standard office telephone sitting on a table, a heavy wooden handle hammer positioned on a piece of red velvet. Yet, these simple still-lifes are strategically composed as a new way to approach the theme of violence. "We get pity fatigue from a blizzard of images," Harrison states. "So instead of bodies, I used actual things, so that the objects themselves become the focus…with the beauty of paint, you can convey the horror more subtly."
One in four American women are physically abused sometime during their lives, and worldwide, at least one in three women have been beaten or sexually abused in her lifetime. Collective avoidance of the prevalence of violence directed towards women is integrated into society and normalized. Many successful policy and behavior change movements – gun control, anti-drunk driving, pro-choice, civil rights – began by making the issue public, developing active advocacy constituencies, instituting deeper prevention efforts, and changing social norms. This exhibition by Margaret Harrison continues to bring attention to an issue still prevalent, pervasive, and all too common in each corner of our world.
---
Text by Steven Brian originally published in NY Arts Magazine May/June issue 2004
© 1995-2009 NY Arts Magazine. All rights reserved - New York, NY.