The Sadness of Life
Amanda Trager
---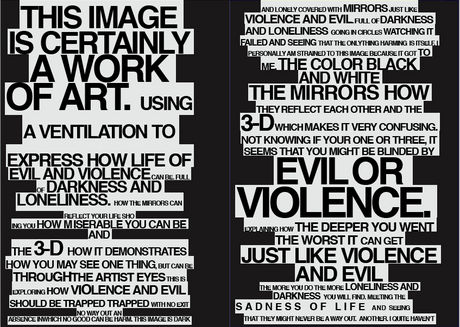 The original, virtual version (The Sadness of Life, 2002, Acrylic on paper, two panels, 115" x 162") was shown at the Brooklyn Museum in 2004 in a group show called "Open House: Working in Brooklyn".
More recently (2008), it was included as a billboard shown in public space in the "Emerging Wor(l)ds Billboard Text Art Project" as part of the Tina B. The Prague Contemporary Art Festival. http://tina-b.eu/sekce-umelci/billboard-text-art (Scroll down to 9th image).
Its genesis is the following: I had assigned my students to write a paper in response to an artwork of their choosing at the Whitney Museum's "Bitstreams" show. One of my students wrote a nearly incoherent paper on a work by Craig Kalpakjian that was nevertheless deeply moving, mysterious and unbearably sad. I made the piece I've described above in response to her writing... I could say more, but I'll leave it at that.