Matter of Time
Five Storey Projects
---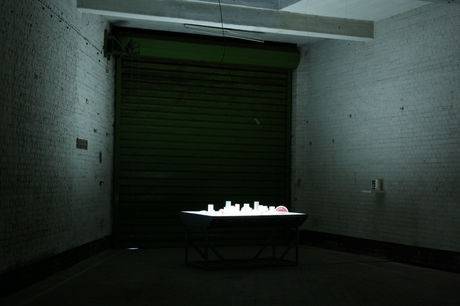 Proposal 2008/1006 by Clive A Brandon, 2008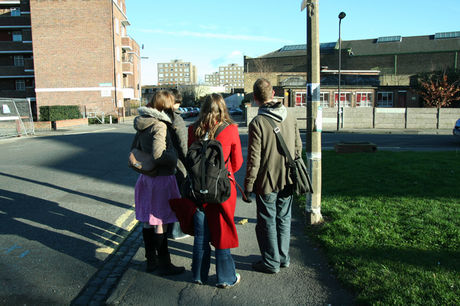 One of the walks in the local area organised by Clive A Brandon as part of his piece Proposal 2008/1006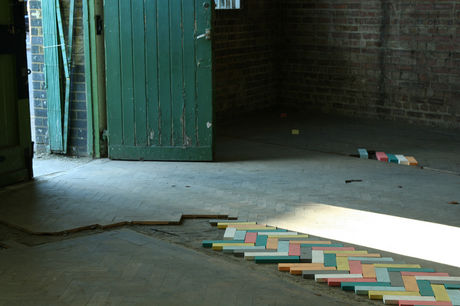 Untitled (Floor) by Alastair Levy, 2008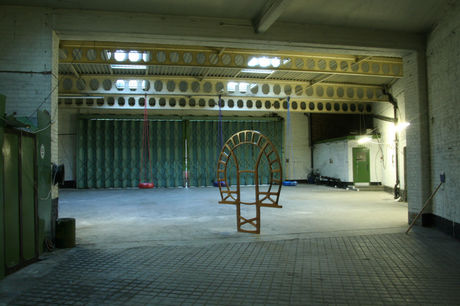 Installation view of the garage with works by PaulMart, David Raymond Conroy, Bianca Brunner and Elizabetta Alazraki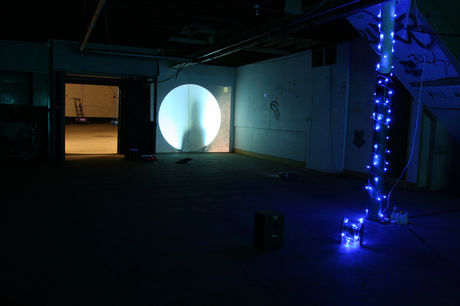 Super Natural, a collaborative installation by Kim Coleman, Haroon Mirza and Jenny Hogarth, 2008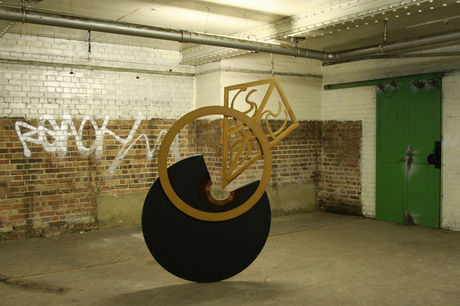 Untitled by PaulMart, 2008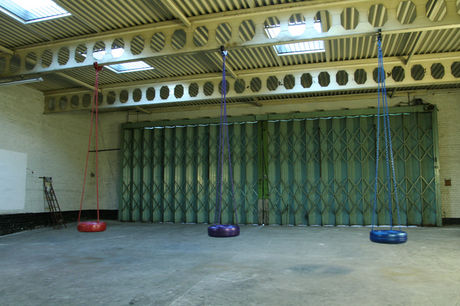 Connecting elements between a beam and a tire (oscillating devices) by Elisabetta Alazraki, 2008,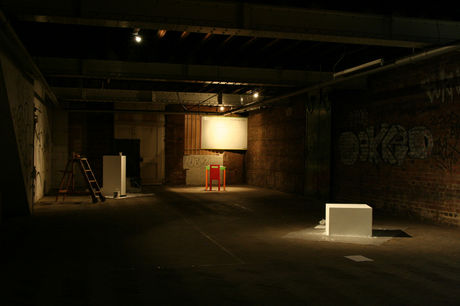 Uninvited Future(s), 2010, by artist duo 'They are here', 2008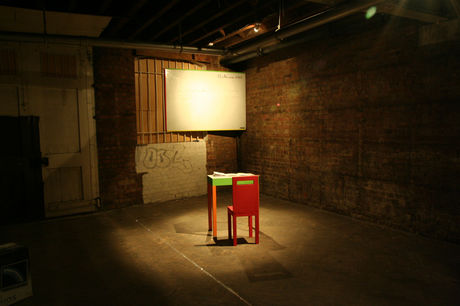 Part of Uninvited Future(s), 2010, an installation and performance by artist duo 'They are here', 2008
Curators Statement
Several decisions were made from the beginning, condensed in the curators' minds as a first set of keywords: non-profit ethos, critical engagement with theory, practice, history and site. Finally, the specific site of an endangered building, located in Hackney's permanently changing urban landscape and opening up its conflicting, enigmatic and layered history of past, present and imminent future, became the space for critical reflection and artistic exchange that the curators were looking for - the James Taylor building.
An intentionally vague proposal, prompted by the space itself, was made to twenty young artists as a conceptual skeleton, an extremely open yet consistent outline for multiple artistic possibilities. Again, a set of keywords or, to put it as Art & Language, a 'map not to indicate' - but now in the artists' minds too. Curators subtly (thus perhaps more challengingly for artists) making their presence almost inconspicuous. 'Instead of creating a brief we are keen not to direct too much and rather ask artists to work around a few keywords, all listed below', they proposed. Arrogantly, or perhaps naively, choosing to work with almost totally unexpected and potentially thoroughly non-relatable outcomes.
These were indeed surprising, but in a favourable way - works appeared diverse and richly layered in their response to the building's spatiality, raw material state, history and location. Diverse, yet sharing a starting point, even if assumedly vague. The connections between the disparate artistic outcomes are undoubtedly there - in time and space.
As a whole, the process was based on a constant exchange between curators, artists and space: at an initial stage, from space to curators; then from curators to artists through the raw and empty, yet always thought-provoking space; finally, from artists back to curators, again through space, but now as a rediscovered, distorted, re-presented, re-appropriated, misappropriated, infiltrated, sabotaged, fictional, replicated, convoluted space.
Pre-existent floor gaps colourfully filled anew; Art Nouveau-inspired objects, intentionally or not, mimicking garage-door and ceiling-beam patterns; an anti-clock sent by post to be placed where a real clock possibly used to be, thereby subtly distorting history by a quasi-exact object replacement; always-already failed attempts to deceive the eye with objects seemingly pertaining to the space; the tautology of failure inherent to works whose fully successful accomplishment would necessarily imply their destruction; a work spatially split into two distant halves, one exposed to the building's dampness, while its absent double gets dry and bleached in a sunny location; halves of a work eventually reuniting before the exhibition comes to an end, the dry, bleached double travelling north not to recognise its damp pair; or two halves never to meet again, too deteriorated to travel, too forgetful of their origin, or just not interested anymore; two types of green pigment, the new made of chipping remnants of the old; a work again spatially split, this time between indoor and outdoor building structures; tube-contained new green then tested on the original old green of an exterior building railing; old green becoming new again by being partly covered with transformed traces of itself; absent artists, postal works, curators following absent artists' instructions to put broken, leaking and perishable pieces together, yet without avoiding fissures, leakage and damage; curators also following present artists' instructions, not to put pieces together but to randomly cast small wooden blocks onto Deleuze - or how 'originary' meanings become inescapably disseminated across time and space, difference and repetition.