UTOPIA - A Group-Mail
Josiane
---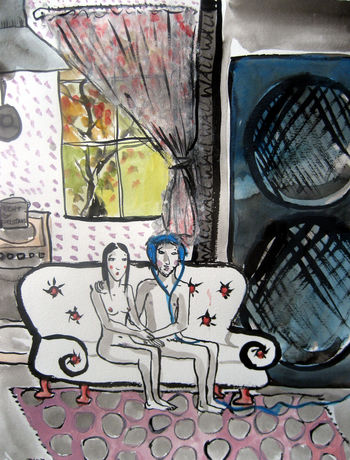 Hello, my dears,
I so apologise for not having been in touch for a long time, but I wanted to take the time to send you a really long e-mail - after all that stress I moved on the 1st of September together with S. to a new flat. We finally found our dream-apartment!
After our nice neighbor-couple had moved away to N. a single lady moved into next doors apartment. She was rather egoistical, doing things like setting up a washing machine in the flat, against the advice of the former tenants. My flat has very thin walls, so our furniture used to tremble whilst she was doing laundry. I had asked her a thousand times not to do her laundry when I was at home or else to place the machine in the basement. Since she never reacted to this I was contemplating asking an attorney for help. That would have been very expensive, but a colleague from my company, who is our attorney there, had offered to write her a kind letter. Although I felt grateful for his offer I wanted to stay fair towards my neighbor and write that letter myself. Unfortunately up to today I never got down to do that, since I was so busy moving - mostly because of her.
Although we've been looking for a flat for almost 16 months, finding it in C. was not easy at all. Eventually we almost considered using a real estate agency. With a last bit of hope we put an announcement into the newspaper, and finally our present landlord gave us a call. We came to a viewing and fell immediately in love with the flat. For me, being from Japan and used to living in 'rabbit-cages', it's like a mansion.
The apartment was built beginning of the 20th century, 92 square meters, four rooms, and an oriel in the living room. The ceilings are 3.5 m high and there is a balcony. My 'must' was a bathtub, and the flat had to be in a well accessible neighborhood, but quiet, and S. wanted by any means a balcony and a no attic-apartment.. It was incredibly hard to find a flat like that. Living-room and dining-room (plus S.'s PC corner) can be separated with French doors; if the doors are open one can create a new space. We invested a lot for this flat. We covered it in new wallpaper and bought a new kitchen with the most modern equipment.
Cooking at my IH stove is double the fun! However, now my bank account is in minusÉ I hope to balance it soon. By the way, monthly rent without bills is 600 Euros. In this area an average rent is usually 1000-1200 Euros inclusive of bills. Our landlord is an old grandfather, who hopes that the tenants stay in the flat as long as possible. He is a very human type who is never trying to take advantage of people. He didn't even ask for a deposit! So we could use the money for decorating our new apartment.
About my new job - next Wednesday my test period will be over. I really enjoy this job with a great atmosphere and nice colleagues. I love working there and this job makes me really happy. The company is growing day by day and this year they won 'Entrepreneur 2007' in IT-Communication.
As soon as the flat is completely furnished I will send you the photos.