Proposal for an Unmade Film (Set in the Future)
Graham Ellard & Stephen Johnstone
---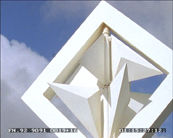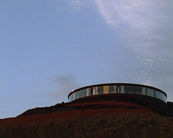 ...assembled from 'location recce' and audition footage; the by-product of a pre-production process for a low budget science fiction film/architectural documentary, developed this far, abandoned, and only later discovered in an archive.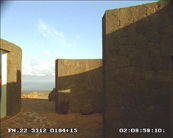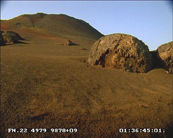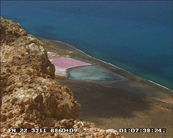 "There has long been said to be a connection between Lanzarote and the fabled knight of King Arthur's court. In 1928 (Augustin) Espinosa imagined a visit to the latitude and longitude of Lanzarote by Sir Lancelot during his quest for the Holy Grail; Espinosa invented a kind of creation myth in which Lancelot arrived from northern climes with ten ships flying his heraldic pennants, installed a fire-breathing dragon in the center of the island (today the dormant volcanoes of the Monta–as del Fuego), dug large caves (today Cueva de los Verdes and Jameos del Agua), and built many castles, some of which still stand. He accomplished all of this in six days, and on the septima alba (dawn of the seventh day) he, like God, rested. He lived the remainder of his days in splendid isolation, contemplating the Atlantic monotony of blue sea and white castles, reading widely in the heroic tales of Homer, Virgil, Lucan and Apolonius of Rhodes, imagining himself as Odysseus and prefiguring the exile, on another African island in the Atlantic, of a later hero: Napoleon of St. Helena".
Stephen Scott, from 'Paisajes Audibles', 2002.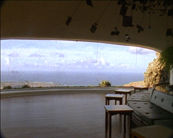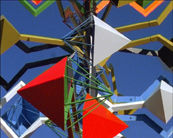 ...a visitor attempting to create a paradise on earth — a story apparently influenced by both Nick Roeg's 'The Man Who Fell to Earth' and Augustin Espinosa's creation myth poem about Lancelot's visit to Lanzarote, 'Lancelot 28o
7o'' — in which volcanic bubbles become time capsules, buildings become space ships or fantastic castles and sculptural mobiles become radio antenna or navigational devices.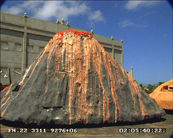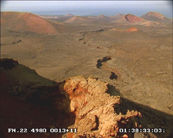 "To drink in and be in direct contact with the calcinated magmas of Timanfaya fires restlessness for complete freedom; a strange feeling of clairvoyance into time and space takes over".
"César Manrique: in his own words", Fundación César Manrique 2004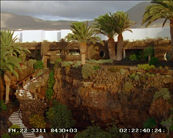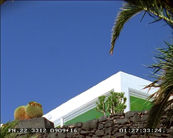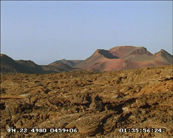 ...the Timonfaya National Park and the 'retro-futuristic' utopian architecture of artist César Manrique.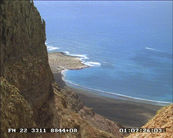 He will open his mouth - bomb and fire - and will bomb and set fire to the whole island.
And all the strands (silver, aluminium, wax) of Lanzarote will be his lips.
Extract from "Lancelot 24 degrees — 7 degrees" by Augustin Espinosa. Original in Spanish. published in "Fundaci—n César Manrique, Lanzarote", Edition Axel Menges 2003.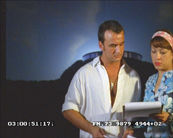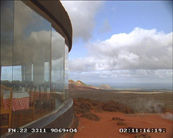 Dir. The King visits Lanzarote, he lights a cigarette and you ask him to put it out. Juan Carlos replies, "I am the King of Spain", and you respond ....
Actor But I am the King here
Dir. Again, this is the King of Spain remember.
Actor But I am the King here.
Dir. Again.
Light from the side,
From above,
From below,
It is the house of the Lanzarote art King.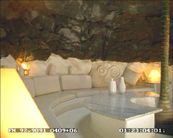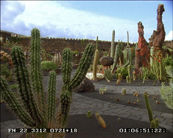 On Lanzarote, we have worked with utter devotion, in close contact with its geology, understanding its composition and its volcanic essence, achieving the miracle of a new aesthetics, to create a greater capacity for art and to integrate all its facets into an all embracing symbiosis, which I have described as: LIFE - MAN — ART.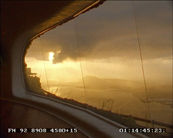 Proposal for an Unmade Film (Set in the Future)
16mm, 21:00 mins. Colour, Sound, UK 2007.
© Graham Ellard & Stephen Johnstone