Late Night Fiction
---
"Late Night Fiction" was an off site group exhibition organised by Vamiali's Gallery in Athens, 13 September - 3 November 2007 (Venue provided by Kledora SA) with artists Sam Herbert, Dani Jakob, Janice Kerbel, Karen Kilimnik, Dimitra Vamiali, Richard Woods
LATE
1 after the expected, proper, or usual time;
2 toward the end of a period; at or until a time far into the day or night.
NIGHT
1 the period of darkness in each twenty-four hours; the time from sunset to sunrise; this as the interval between two days; the darkness of night; poetic/literary nightfall;
2 the period of time between afternoon and bedtime; an evening.
FICTION
literature in the form of prose, esp. short stories and novels, that describes imaginary events and people; invention or fabrication as opposed to fact; [in sing.] a belief or statement that is false, but that is often held to be true because it is expedient to do so.
(from left) Sam Herbert, "Check Mate", 2007, oil on canvas
Richard Woods, "Logo No 33", 2007, site specific installation (private collection, Athens)
Dimitra Vamiali, "Stolen Reading Lamps", 2005, mixed media (private collection, Athens)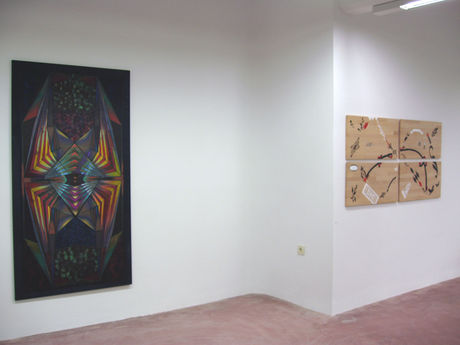 Dani Jakob, "Monte Verita", 2006, silkcolour on canvas (private collection, Athens)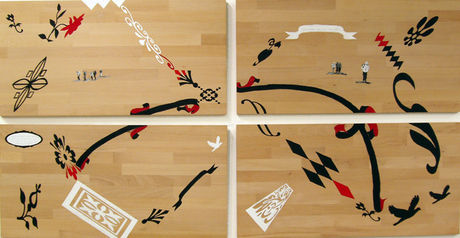 Dimitra Vamiali, "Crazy Ornaments", 2007, acrylic and ink on wood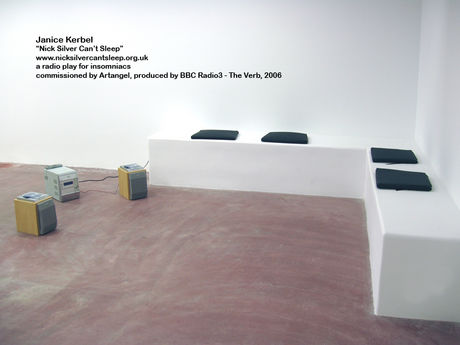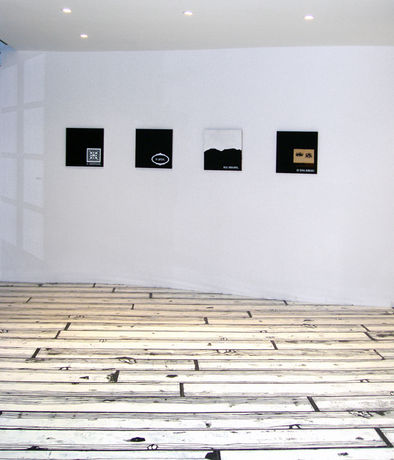 (from left) Richard Woods, "Logo No 33", 2007, site specific installation (private collection, Athens)
Dimitra Vamiali, "East, West, a Memory and a Book", 2007, acrylic on wood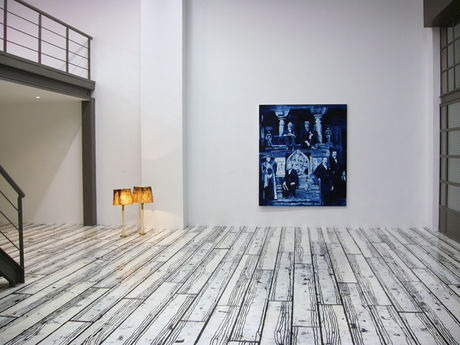 (from right) Sam Herbert, "Love Gods", 2007, oil on canvas
Richard Woods, "Logo No 33", 2007, site specific installation (private collection, Athens)
Dimitra Vamiali, "Stolen Reading Lamps", 2005, mixed media (private collection, Athens)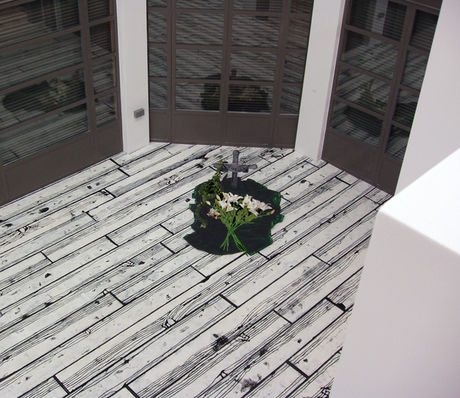 Richard Woods, "Logo No 33", 2007, site specific installation (private collection, Athens)
Karen Kilimnik "Giselle's Grave", 2005, mixed media (private collection, Athens)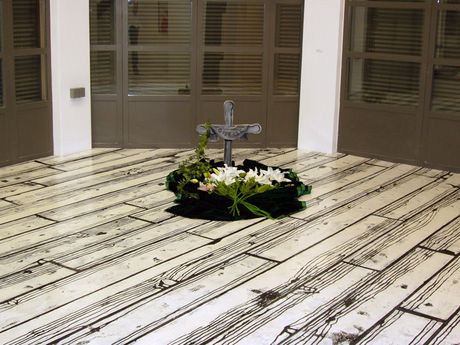 Richard Woods, "Logo No 33", 2007, site specific installation (private collection, Athens)
Karen Kilimnik "Giselle's Grave", 2005, mixed media (private collection, Athens)