Forgotten Sculptors: 1. The Nanocafausu
Cesare Pietroiusti
---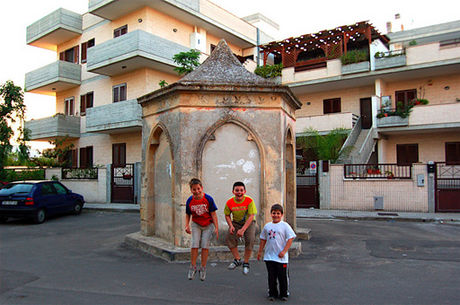 Dusk. I knew my way around that suburb. Lu Cafausu was in the reflection on a puddle, together with a scrawny pink pepper tree. Surrounded by tract houses and condos that still emitted odors of construction dust and mortar. It looked like a Cyclops with a droopy single eyelid. The totally ungovernable nature of its beauty, and at the same time its complete autonomy with respect to my sentiments, had never been so clear before. It had been raining for days, and a dark dog had taken shelter under the roof: from a distance the dog was just a blotch, like a little tar pit.
Two hours later I was in a room full of Canon printers: Professor C was seated in front of me, in his studio at the Nanotechnology Research Group. I had explained things to him openly: I felt a physical need to contain that place, to incorporate it in me. Lu Cafausu had to be able to travel thanks to my body, I wanted to become its vector, I felt an urgent need to hide it, wrapping it inside me like a fetus. To become its living frame. I also told the professor that the first time I talked about this with Cesare (a mutual friend) he immediately urged me to swallow it. SWALLOW IT. I was fascinated by the word, more than the act in itself. Digestive processes exist to transform or to expel, but the nano-Cafausu would never have to be transformed.
Talinjit was from New Delhi and had been Professor C's assistant for a couple of years. Together, with boundless patience, they tried to explain how I should guide the flywheel with which I could create, "freehand", the nanosculpture of Lu Cafausu. Later, though, we would have to come up with about 10,000 euros: the average cost of a hypothetical material with which to "work". Otherwise, the use of the laboratories and the work of the team were free, because everyone seemed to like the idea. But something seriously bothered me; in that moment I tried out my sculpture using a material that was easy to shape, but toxic:
"It's the most ductile and flexible of all elements, but it is not suitable. This is because we cannot know what will happen inside your body in ten years' time. We can inject it into a muscle, under the skin, or if you prefer we can use a long needle to place it in the parenchyma of an organ. No one can tell you what will become of your little Cafausu if it starts to freely circulate inside your organism..."
The fact is that I continued to complicate matters. I thought about a material that would remain stable, in its shaped form, only inside a living human being. I imagined my death and Lu Cafausu as it came apart within me, with me.
I took some journals home with me that day: "Mechanical and Electrical Behavior of Carbon Nanotubes", "Rivista Italiana di Compositi e Nanotecnologie".
Over the next few days the attempts to construct a form similar to the Cafausu failed repeatedly. The scientists who were helping me thought it was excellent news and tried to convince me to abandon my sculptural compulsion, saying I would not be able to achieve much more, even after a full year of trying. I remember that during the first days they kept urging me to make a computer-aided construction, based on a photograph but the results seemed cold, impersonal, like an architectural model. It wasn't the work I wanted to contain, to carry, to feel, to frame. The sculpture had to be less like a caption, it should have been more symbolic, more emotional. At a certain point Talinjit, without taking his eyes off the monitor, said that I was building myself a non-functional organ.
(Translation: Steve Piccolo)
---
Forgotten Sculptors is a project by Emilio Fantin, Luigi Negro, Giancarlo Norese and Cesare Pietroiusti, produced by SculptureCenter in the context of PERFORMA07, the second biennial of new visual art performance. Part of the project consists in a series of short email stories like this one. A performance by the four artists with the participation of Joan Jonas and Steve Piccolo will be held at Sculpture Center on November 3rd at 3pm. As a final step to the project, the artists will invite everyone to join them in a collective performance that can take place at home, on Sunday, November 18th. For more info on how to participate, please email forgottensculptors@sculpture-center.org