APG Artist Placement Group
Barbara Steveni
---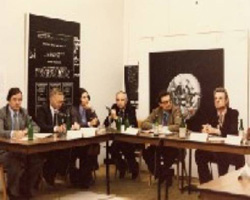 1. Kunst als Soziale Strategie (Bonn, 1977) Podium discussion between APG artists, from the UK, and German ministers. (c) Tate/O+I, 2004.
Photo: Chris Hamblin Artist Placement Group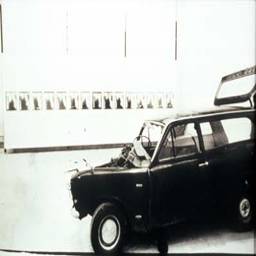 2. Installation shot of John Latham's car piece, produced while on a placement with the South Minn's Intensive Care Unit of Clare Hall Hospital, 1970.
(c) APG/Tate Archive.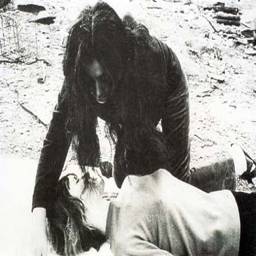 3. Shadow Piece performed by Yoko Ono and Barbara Steveni at DIAS (Destruction in Art Symposium) in 1965 at Notting Hill Gate, London. (c) APG/Tate Archive.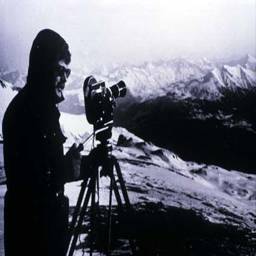 4. David Hall on his B.E.A. placement filming cloud formations over the Swiss Alps.
(c) APG/Tate Archive/The artist.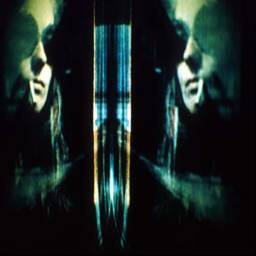 5. Film still from The Journey, made by Ian Breakwell on an APG placement with British Rail. (c) APG/Tate Archive.
6. Catalogue cover for Hayward Gallery exhibition Art and Economics held in 1971. (c) APG/Tate Archive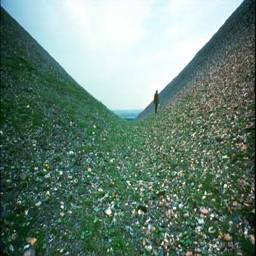 7. The artist, John Latham, and a detail of shale deposit from his work Five Sisters. It was produced by Latham during his Scottish Office placement in 1975. (c) APG/Tate Archive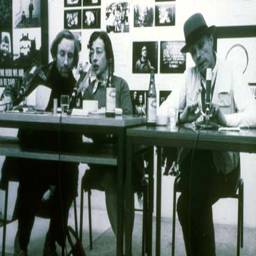 8. Joseph Beuys and John Latham at the Kunsteverin in Bonn, Germany. (c) APG/Tate Archive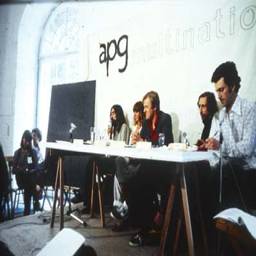 9. APG members at Documenta 6 in Kassel, Germany, 1977. From left to right: Ian Breakwell, Barbara Steveni, Nicholas Tresilian, John Latham and Hugh Davies. (c) APG/Tate Archive.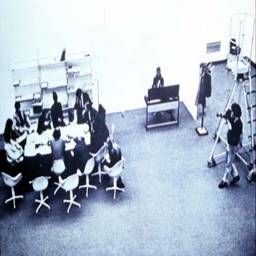 10. Installation shot of the Industrial Board Room from Art and Economics, an APG exhibition held at the Hayward Gallery, London in 1971-2. (c) APG/Tate Archive.
APG Artist Placement Group
Organisation founded in 1966 by Barbara Steveni with her husband John Latham. Its purpose was to place artists in government, commercial and industrial organisations. APG emerged from the idea that artists are a human resource underused by society. Artists are isolated from the public by the gallery system, and in the ghetto of the art world are shielded from the mundane realities of industry commerce and government. The idea was that artists, designated Incidental Persons by Latham, would bring completely alternative ways of seeing and thinking to bear on the organisations they were placed in. APG would thus recognise the artist's outsider status and turn it to positive social advantage. In 1966 Steveni and Latham were joined by Jeffrey Shaw and Barry Flanagan, soon followed by Stuart Brisley, David Hall and Ian MacDonald Munro. Among the placements made by APG was one in 1975-6 of Latham himself at the Scottish Office in Edinburgh. This resulted in radical proposals for the future of the huge industrial spoil tips, known as bings, found in the region. Latham proposed retaining them as works of art and marking them with beacons. APG staged a major exhibition at the Hayward Gallery, London, in 1971. It continued until 1989 when it was reconstituted as O+I (Organisation and Imagination).
The idea of Artist Placement stemmed from a group of UK artists, and was guided by John Latham and initiated by Barbara Steveni, who were experimenting with radical new forms of art. Directed by Steveni, the APG pioneered the concept of art in the social context. From the outset their notion of 'placement' acknowledged the marginalised position of the artist and sought to improve the situation. By enabling artists to engage actively in non-art environments, the APG shifted the function of art towards 'decision-making'.
Acting outside the conventional art gallery system, the APG attempted, through negotiation and agreement, to place artists within industry and government departments. The artist would become involved in the day-to-day work of the organisation and be paid a salary equal to that of other employees by the host organization, while being given the new role of maintaining sufficient autonomy to acting on an open brief. These placements resulted in a variety of artists' reports, films, photographs, interviews, poetry and art installations. Artists of international repute, such as Keith Arnatt, Ian Breakwell, Stuart Brisley, George Levantis and David Hall, had important placements or early associations with the APG.
Like many other British artists and groups working outside common frameworks, the APG had a high profile abroad, particularly in Germany. Recent years have seen an increasing recognition that the APG served as a catalyst for many artist-in-residence programmes and community schemes, both in Britain and abroad. However, the APG's brief was always more about political, social, and long-term engagement than about parachuting artists into problem zones. Like British Pop, the APG initiated and developed an aspect of art practice long before many of its contemporaries.
Today the organisation exists as Organisation and Imagination (O + I). The name APG was changed in 1989 in order to distinguish it from the art administration's placement schemes, set up closely along the lines of the APG's legacy, to the group, highly problematic. O + I describes itself as 'an independent, international artist initiative, a network consultancy and research organisation'. Its board of directors, members and specialist advisors include leading artists, civil servants, politicians, scientists, and academics from various disciplines.
Chronology
The Destruction In Art Symposium (DIAS) is held at the Africa Centre in Covent Garden, London, bringing together a diverse group of artists including Barbara Steveni, John Latham and Stuart Brisley.
The APG is formed in London by Barbara Steveni in collaboration with John Latham; they are joined by Jeffrey Shaw, Barry Flanagan, Stuart Brisley, David Hall, Anna Ridley and Maurice Agis, as well as Ian McDonald Munro.
1968 The first APG initiated event, the Industrial Negative Symposium, is held at the Mermaid Theatre, London.
Barbara Steveni approaches the chairman of the Arts Council, Lord Goodman, and the secretary general, Sir Hugh Willatt, to request use of the Hayward Gallery for an exhibition. They agree.
The APG meets with the EAT (Experiments in Art & Technology), a different artist group whose mandate centres around collaborating with corporations to improve industrial and artistic fabrication.
1969 The artist Garth Evans undertakes the first industrial placement with British Steel Corporation. He goes into Port Talbot, a large steel producing complex in the UK, and interviews apprentices on-site, culminating in a paper for the Iron and Steel Federation as well as reports for the corporation.
1970 The artist David Hall is given an industrial placement with British European Airways; he films unique cloud formations over the Rock of Gibraltar and elsewhere throughout Europe. Hall also initiates a placement with Scottish Television.
David Hall on his placement filming cloud formations over the Rock of Gibraltar.
Other placements successfully negotiated by the APG include: Stuart Brisley working for Hillie Co Ltd, Leonard Hessing working with ICI Fibres Ltd, Lois Price working with Milton Keynes Development Corporation, Ian Monro and Marie Yates joining Brunei University. In addition, John Latham takes up placements with the National Coal Board as well as in the Intensive Care Unit of Clare Hall Hospital.
Between 6 is held at the Kunsthalle in Dusseldorf, where the APG discusses one of their central contentions that 'context is half the work'. They are invited by Jürgen Harten, Director of the Kunsthalle, to explain their initiatives to representatives from German industry.
The artist Ian Breakwell takes an industrial placement with British Rail and produces a film called The Journey. The artist David Parsons also undertakes a placement with British Rail and John Latham takes a placement with Proteus Byging Co.
The artist Andrew Dipper undertakes a placement with Esso Petroleum Co Ltd. He produces a series of photographs and super-eight films documenting life at sea.
1971 Art & Economics exhibition opens at the Hayward Gallery and is unofficially curated by the APG who literally move into the gallery. A selection of documentation from the APG's industrial placements are displayed as works of art. In one gallery, interviews are set up between industrialists and artists to question the new role of the artist in society.
1972 The Arts Council discontinues funding on the basis that the 'APG is more concerned with Social Engineering than with pure art'. Barbara Steveni negotiates the Whitehall Memorandum with the UK government, documenting the support of artist placements within government institutions. It is agreed that there is a bilateral interest between artist activity and government activity which later leads to a number of APG placements.
The APG sets up an office on Ealham Street in Covent Garden, London. 1974 A placement is arranged between the Greek artist George Levantis and the shipping company, Ocean Fleets. Levantis travels on an ocean liner, a tanker and a cargo ship. As a result of this experience he produces an art installation which is thrown overboard, as well as a poetic book.
1975 The artist Roger Coward is given the first government placement with the Department of the Environment in Birmingham. He moves to Small Heath with a team of actors and uses film to enable residents to respond directly to the Department of Environment's proposals.
The New Profession is held at the Garage Gallery, London. Each artist exhibits the work produced on placements, and their roles are discussed with representatives from organisations currently holding placements with artists.
The artist Jeffrey Shaw is given a placement with National Bus Co. John Latham works with the Scottish Office and Lois Price works with Milton Keynes Development Corporation. Stuart Brisley also takes a placement with the Peterlee Development Corporation.
The artist, John Latham and a detail of shale deposit from his work 'Five Sisters'. It was produced by Latham during his Scottish Office placement in 1975.
Artist Ian Breakwell undertakes a placement with the Department of Health and Social Security. He produces a series of controversial films on Broadmoor Special Hospital for the criminally insane.
1976 Art critic John A Walker publishes an important article about the APG in Studio International, explaining the group's long-term objectives and desire to change the role of the artist.
1977 The APG holds a series of seminars and presentations across London at the Royal College of Art, Riverside Studios and the Whitechapel Art Gallery.
Joseph Beuys invites John Latham to discuss artist-with-government placements at Documenta 6 in Kassel. This is when the APG is first brought to the attention of the German government.
Joseph Beuys and John Latham at the Kunsteverin in Bonn, Germany.
APG holds a series of podium exchanges with the German government and secretaries of state in Bonn which leads to the first international artist-with-government placement. Further discussions and a presentation are later held at the Rat Haus and the Stadhaus.
1978 The APG meet with Austrian artists and government at the Palais Lichtenstein.
1979 The APG gives a presentation in France at the Musée d'Art Moderne in Paris, arranged by the British Council.
1981 The APG is invited by Sir Reginald Hibbart from the British Embassy in Paris, to introduce the idea in France.
1982 The APG holds a discussion with Dutch artists and members from regional government at the Apollohuis in Eindhoven, Holland.
The first European APG placement is organized for John Latham and Klaus vom Bruch. It is a traffic safety project with Nordrhein Westfalen in Düsseldorf, where they take a comparative look at the way that accidents happen.
1985 Barbara Steveni and Nicholas Tresilian establish a pilot European placement programme funded by the EEC Cultural Sector.
1989 Barbara Steveni establishes the O + I (Organisation and Imagination) as an independent international artist consultancy and research body. Artists John Latham, Barbara Steveni, Rita Keegan, Carlyle Reedy and David Carr are invited to the Southwark Education Research Project by the Inner London Education Authority and the London Borough of Southwark. Together they look at the role of contemporary art in relation to learning and educational restructuring.
1990 Barbara Steveni establishes a european network to reposition the artist in the decision-making process of government, commerce and academia at the inaugural meeting of ELIA in Amsterdam.
1991 Barbara Steveni establishes an Erasmus programme Art in Context at the London Institute in collaboration with colleagues in Norway, Spain and Holland
2004 The APG, which now exists as O+I, holds a day-long event at Tate Britain.