Dancing The Cueca With Huasos In Chile
David Medalla
---
21/01/2008
City: Valparaiso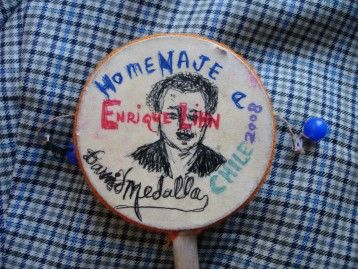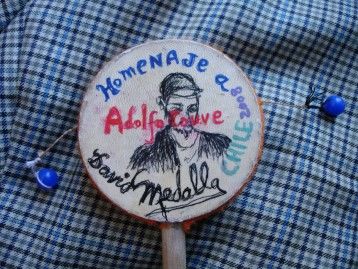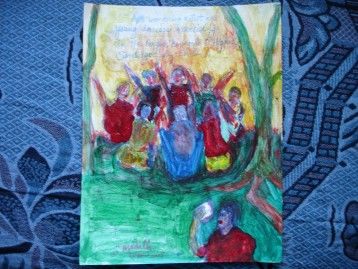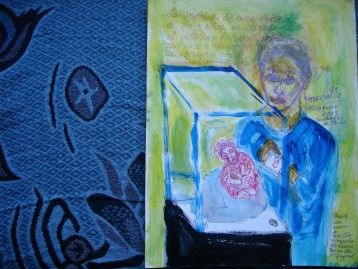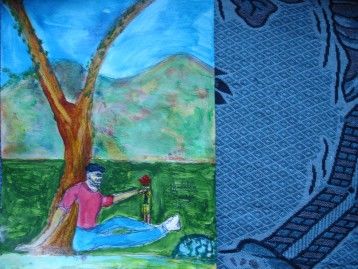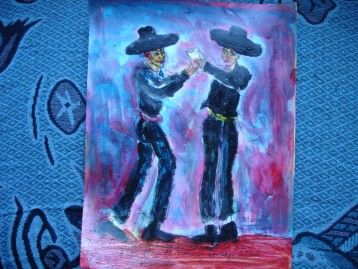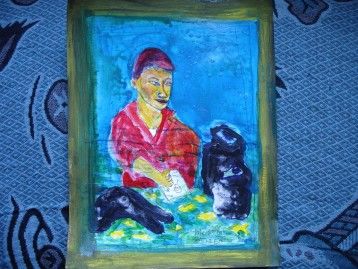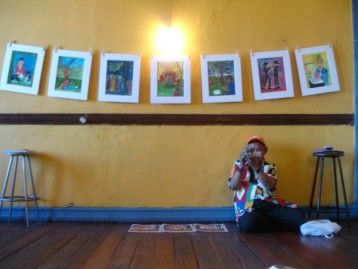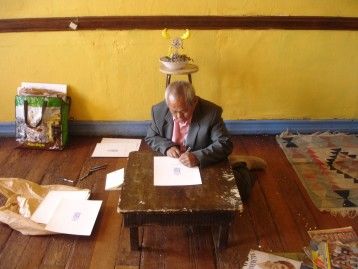 David Medalla, FF Alumn, continues his series of performances and projects for MUSEUM MAN in Chile. For the opening of MUSEUM MAN in Valparaiso, David Medalla showed a new set of paintings inspired by daily life in the South American republic. The subjects of Medalla's brightly coloured paintings comprise a whole spectrum of joyful moments in the lives of ordinary people who have just recovered from the nightmare of a military dictatorship. "I believe," said Medalla, "that the people of Chile have recovered from the nightmare of the Pînochet regime, and are now on their way to a life of freedom."
Last January 6, 2008, celebrations marking the centenary of Salvador Allende's birth were held in Chile. In the festivities at the Parque Bernardo O'Higgins in Santiago, David Medalla observed a group of young dancers practising in the open air under a canopy of verdant trees. Medalla transformed the scene into an enchanting painting.
Other paintings by David Medalla depicted a young "chinchinero" (boy drummer), a father feeding his young son at the Parque Forestal, three lady-musicians from Mexico singing a capella in the courtyard of the old Merced Convent in Santiago, bathers swimming in the Pacific Ocean at Vina del Mar, a young knife-thrower busking atop a wooden box on a traffic island, four young male muscians from Ecuador singing Andean songs, and the artist's self-portrait gazing at the pre-Columbian mummy of a four-year old girl.
Medalla's beautiful exhibition is entitled "Dancing the Cueca with Huasos in Chile". The show is curated by Adam Nankervis, founder and director of MUSEUM MAN. The "cueca" is the national dance of Chile. "Huasos" are the Chilean "gauchos" or cowboys. David Medalla danced with 'huasos'at the Plaza de Armas in Santiago. A pair of handsome 'huasos'feature in one of Medalla's recent paintings which have been compared, in their luminous intensity, to the paintings of the Spanish master Francisco Goya.
In Santiago de Chile Adam Nankervis curated shows at Centro Cultural de la Moneda, which featured the travelling archives of Franklin Furnace, and at the Metropolitana Gallery, directed by Anita and Luis Sampaio, which featured an installation of the departed by English art critic and curator Guy Brett and art works by, among others, Christian Silvia-Varia, Jill Rock and Jenny Brown.
MUSEUM MAN in Valparaiso featured an exhibition of etchings by Brooklyn-based artist Reynolds and the glass & mirror collages incorporating silver wings by Australian artist Misha Dare. Adam Nankervis has invited David Medalla to curate at MUSEUM MAN in Valparaiso an evening of films and video art works by Italian artists Maddalena Vantaggi and Lello Lopez, Chinese artist Jun Gao and English film-maker Nick Gordon-Smith.
At the Metropolitana Gallery, David Medalla performed his homage to the poet Vicente Huidobro, with the collaboration of young Chilean poets Pablo Inostrozo and Tom Garcia.
David Medalla continues his series of performances in homage to Chilean poets Gabriela Mistral, Violeta Parra, Pablo Neruda, Nicanor Parra, Enrique Lihn, Adolfo Couve and Roberto Bolano, in various venues in Santiago de Chile, Valparaiso, Olmue and Cartagena. For images of David Medalla's paintings and performances in Chile,
"David Medalla is a pioneer of land art, kinetic art, participatory art and live art. He was born in 1942 in Manila, Philippines. At the age of 12 Medalla was admitted as a special student at Colombia University in New York upon the recommendation of american poet Mark van Doren. Medalla's tutor at Colombia was Professor Moses Hadas under whom he studied ancient greek drama. Medalla also attended the lectures on modern drama by Eric Bentley, modern literature by Lionel Trilling, modern philosophy by John Randall and the poetry workshop by Leonie Adams. In New York City David met the american actor James Dean and the filipino poet José Garcia Villa who encouraged Medalla's early interest in painting.
When he returned to Manila in the late fifties, he met Jaime Gil de Biedma (the catalan poet) and the painter Fernando Zobel de Ayala, who became the earliest patrons of Medalla's art. In Paris in 1960, the French philosopher Gaston Bachelard introduced David's first performance in France at the Academy of Raymond Duncan, the brother of the great american dancer Isadora Duncan. Years later in Paris, the French poet Louis Aragon (co-founder of surrealism with André Breton) introduced another performance by Medalla and hailed the filipino artist as a genius. Marcel Duchamp made a medallic object for David.
From 1964 -1966 Medalla edited SIGNALS newsbulletin in London. In 1967 he initiated the Exploding Galaxy, an international confluence of multi-media artists. From 1974 - 1977 he was chairman of Artists for Democracy and director of the Fitzrovia Cultural Centre in London. In 1994 he founded the Mondrian Fan Club in New York with Adam Nankervis as vice-president, in 2000 the London Biennale, the idea for which occured to him while he was on a boat en route to Robben Island, off Cape Town, South Africa, during the 2. Johannesburg Biennale in 1998. David Medalla has given numerous exhibitions in many parts of the world. He was included by Harald Szeemann in the exhibitions Weiss auf Weiss (1966) and Live in Your Head: When Attitudes Become Form (1969) (both at the Kunsthalle in Bern) and in the DOCUMENTA 5 exhibition in 1972 in Kassel.
Among solo and group shows David Medalla participated in are: Travels II curated by Chris Dercon at the Clocktower Gallery in N.Y.; Art Lifts Berlin (1998) curated by Friedrich Meschede at the DAAD Galerie in Berlin (when David was in the Berliner Künstlerprogramm); Pinaglabanan in Manila; Micropolitquess curated by Paul Ardenne at Le Magasin in Grenoble, France; Fluxattitudes at the New Museum of Contemporary Art in N.Y.; The Other Story (1989) curated by Rasheed Araeen at the Hayward Gallery, London; Perfotijd (1984) curated by Wink van Kempen at the Theatre de Lantaren in Rotterdam; Live in your Head (2000) at the Whitechapel Gallery, London and the Museo de Chiado in Lisbon; L'Informe (1996/97) curated by Yves-Alain Bois and Rosalind Krauss at the Centre Pompidou, Paris; Transforming the Crown (1998) at the Haarlem Studio Museum, N.Y.; Live/Life (1996/97) curated by Hans-Ulrich Obrist at the musée d'art moderne de la ville de Paris and at the Centro Cultural do Belem, Lisbon; A Quality of Light (1997) at Tate St.Ives, Cornwall; Century City (2001) at the Tate Modern, London; Out of Actions (1998) at the Los Angeles Museum of Contemporary Art and MAK in Vienna and Tokio; 2nd Johannesburg Biennale (1998), South Africa; Force Fields (2000) curated by Guy Brett at the Hayward Gallery in London; etcetera...
David Medalla has been a lecturer at the Slade School of Art, University College London, St.Martins School of Art, Chelsea School of Art, Goldsmiths College of Art, the University of Southhampton. In 1989 he gave a series of lectures on global cultures at MOMA, the Museum of Moderm Art of N.Y. He has also lectured at the University of Hawaii in Manva, Cooper Union in N.Y., the Universities of Amsterdam and Utrecht, the Ecole des Beaux Arts in Bruxelles, the Fundacion Tapies in Barcelona, the Sorbonne in Paris, the British School in Rome and many otherschools, universities and colleges all over the world."
with many thanks for the continued support of Pablo Inostroza
Santiago and Valparaiso
Lunes 29 de octubre de 2007
Por SUSANA FREIRE / La Nación
Adam Nankervis presentará su trabajo en la moneda, Pedro aguirre cerda y Valparaíso
Hombre museo se pasea por Chile
"Museum Man" trajo en barco las pertenencias de su casa-museo. En la popular comuna de Santiago abrirá las puertas para artistas nacionales y extranjeros.
Adam Nankervis. Delgado, tez blanca y ojos azules. Miles de cigarros han dejado huellas en su dentadura. Cuando habla mueve constantemente sus manos huesudas y, en el dedo índice de la derecha, lleva una argolla de plata. Este artista, curador y creador de Museum Man, está en Chile con su museo itinerante gracias a la invitación de la artista y curadora nacional Alexia Tala.
"Es la segunda vez que vengo (la primera fue para la Bienal Deformes en 2006, también invitado por Tala) y en mi estadía anterior vi que no habían muchos espacios alternativos. Luego de esa visita, me invitaron para que llevara el Museum Man a Roma, pero no acepté porque no quería permanecer desconectado de Chile, ya que la historia de la represión y del golpe de Estado todavía es súper fuerte", explica.
Hasta el 13 de diciembre, el hombre museo presentará en el Centro de Documentación del Centro Cultural La Moneda "Historia de la Desaparición", que consiste en un archivo realizado por la artista neoyorquina Martha Wilson y adquirido por el MOMA. Esta muestra se compone de piezas audiovisuales de performances de destacados artistas internacionales como William Wegman y Andrea Fraser, entre otros.
Después, entre el 5 de diciembre y el 3 de enero, se exhibirá parte de la colección permanente de este museo nómade en la Galería Metropolitana (Félix Mendelssohn 2941, Pedro Aguirre Cerda) donde también se mostrará la instalación "Frágil y ambigua existencia", obra del historiador de arte Guy Brett. Este espacio también será intervenido durante cuatro semanas por diversos artistas nacionales e internacionales, como Thomas Rentmeisten, Michelle Wren o Norbet Bisky, entre otros.
Valparaíso será el lugar donde terminará su trabajo Adam Nankervis. Entre el 7 de diciembre y el 8 de marzo, una casa de algún cerro será el lugar donde todo lo acumulado en los dos eventos (CCPLM y Galería Metropolitana) será trasladado y exhibido junto a otras obras de artistas nacionales. En algún rincón porteño, artistas chilenos y extranjeros serán invitados a intervenir en este museo itinerante.LN