Can't Simulate Freedom
Adib Fricke
---
A project for the group show 'Hannah Arendt Thinking Space' (Hannah Arendt Denkraum) in the former Jewish Girls' School, Berlin-Mitte, 2006.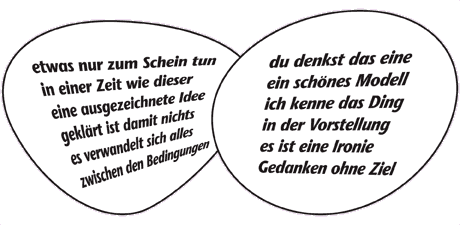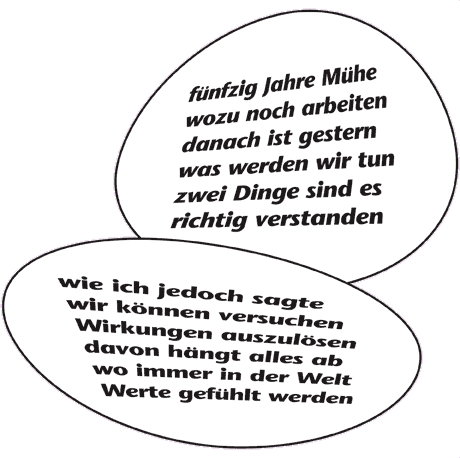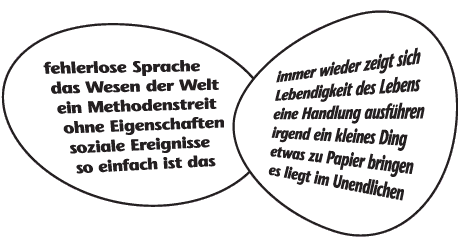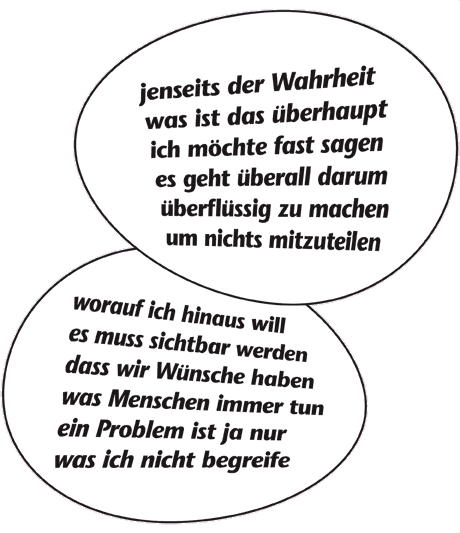 Translation
I.
to do something for appearance's sake
in a time like this one
an excellent idea
that clarifies nothing
everything changes
between the conditions
you think so
a nice model
I know the thing
in the ideal
it's an irony
thoughts without aim
II.
fifty years of effort
why work
after that it's yesterday
what shall we do
two things are there
fully understood
but as I said
we can try
to generate effects
on this everything depends
wherever in the world
values are felt
III.
language without error
the essence of the world
struggle over approach
without qualities
social events
it's as simple as that
it shows itself again and again
the vitality of life
to act
any small thing
to put to paper
it lies in infinity
IV.
so that it's clear
how unnecessary
responsibility
this is the key
you must act
even in hell
the world out there
a gigantic circus
manifestation of images
the show must go on
relative prosperity
do you understand now
V.
language changes
to free thinking
verbal and factual
to really understand
where the truth lies
practical action
between subject and object
we utilize every possibility
a conception of the human
something of soul and flesh
to deem the world believable
a kind of irrationality
VI.
beyond the truth
what is that after all
I almost want to say
that everywhere it's about
making things superfluous
so as not to communicate
what I want to get at is
it must be clear
that we have desires
what people always do
after all a problem is only
that which I don't understand
Translation by MaryAnn Snyder-Körber
'Can't Simulate Freedom' was a contribution by Adib Fricke, The Word Company to the group show 'Hannah Arendt Thinking Space'. The show took place on the occasion of Hannah Arendt's 100th birthday in the former Jewish Girls' School in Berlin. For the work Fricke picked ten terms which are relevant in the writings (and the thinking) of Hannah Arendt. With those terms like "work", "language", "production", "idea", "politics" ... Fricke searched in a German text corpus data base for sentences which include these words. As a result he collected around 25,000 phrases as text strings (lines/paragraphs). Filtered by a computer he "crashed" (deconstructed) these sentences into small fragments which were the base for combinations emerging out of the selection process. He created a system based on the new associative approximations in Hannah Arendt's work. The "speech" bubbles, being paired, indicate an unfixing of individual and collective meaning, as always incomplete in any re-reading.
These were located on six walls in the stairwell of the exhibition space.