Anxiety Attack
Esther Planas
---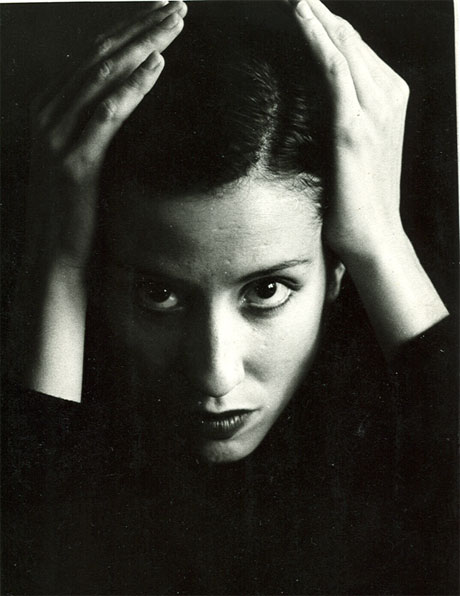 Iammedicated…Ihavemultiplepersonalitydisorder…Iamalienatedwhocares...?
I am a Zombie, a Ghost. (NOT A GOTH, PLEASE. THANKS...)
ANARCHY AND NONSENSE IS THE MENTAL SPACE WHERE I HAVE GROWN AFTER DRIFTING AROUND WITHOUT DIRECTION, WITHOUT 'SCHOOL-TRAINING'. I AM AN ESCAPEE, A FUGITIVE NURTURING ELECTIVE AFFINITIES WITH THE DILETTANTE.
Dyslexia, treatment and claustrophobia.
In my long lost trip I discovered a CONTEXT:
INDIE, DIY and FUCK YOU ALL -
IN WHICH I NOW OPERATE, HAPPY TO BE A THIEF AND A CRIMINAL.
NOTHING IS NEW,
NOTHING IS EXCITING.
ALL, ALL IS NORMAL,
ALL, ALL IS MODERN
SINCE THE BORROW-K.
I realize I am quite embarrassed to have to say I am an artist.
I COULD SAY INSTEAD I AM A PUTAIN!
BUT, BUT
MOST OF ALL....
A BURGLAR.
Which gives me pleasure: I am a junky of spleen.
HERE IS SOME ENTERTAINMENT, OR AT LEAST A FAKE ATTEMPT AT IT.
Please cross with an 'X' what you prefer to think about me:
a) Artist who plays in bands (or in groups that function like a band).
b) Artist with a band posing as an art project.
c) Musician/performer making installations.
d) Artist that works with pop music codes and mass memory.
e) Artist who uses exhibitions simply as a way of promoting the fact that she is an artist and she could get acknowledged for it and get more shows. (A real paradox.)
f) Artist who is not an artist.
g) Artist who is separated from the essence of the difference between you and her... or them and her....
TIPS FOR COMPLETING THE ABOVE:
In November 2000, Esther Planas had a review about her piece in a group show called THE REDROOM. AT FIVE YEARS, LONDON.
IT SAID:
TARATARATATATTATATTANNNNCHANNNNN!!!!

"Behind a tinsel curtain, an ancient TV plays low-budget music videos for Esther Planas's INDIE BAND (sorry 'performance project') DIRTY SNOW. ARTISTS' BANDS ARE RUBBISH AND THIS IS NO EXCEPTION... blah blah blah blah... THEY RAISED THE QUESTION OF WHETHER THE INSTALLATION IS A PARODY OF SMACK-ADDLED LOSERS OR SIMPLY PUBLICITY FOR UPCOMING GIGS."
Signed:
Martin Herbert
Time Out Magazine
ANOTHER USEFUL REFERENCE AS WE NEED DIALECTICS:
In February 2004, in an Art Forum article titled 'FROM NOISE TO BEUYS (ON ART AND POP MUSIC), Bennett Simpson writes:
"DO YOU WANT NEW WAVE OR DO YOU WANT THE TRUTH?" asked the punk band MInutemen in '84 - AND THE VERDICT IS STILL OUT, ESPECIALLY IN ART. The prominence of pop music in recent art, from rock and punk to noise, techno, and hip hop, is one of the most ambiguous developments of the past five years."
THE ARTICLE CONTINUES.….. (if interested! Google is always there to help.)
I have worked with the formats of music, band and art (whatever is supposed to be the difference) since 1995 in Barcelona. Where the ghosts of murdered Anarchists and murdered Priests still haunt us. The spirit of nonsense CONTINUES.
NO MORE DATA NO MORE DATA
DOT DOT DOT
DOT DOT
DOT
DOT
Kill me tender, kill me true.....
dead day, death, death,
and all the masks and skeletons are commodities for distraction from
the real thing.
The real death.
The real skull.
The worms and the earth humid and dark, the tomb, the eternal sleep,
Yes,
I feel is so near.
All that I lost already, all that is dead already,
all gone forever.
Oh!
To be or not to be,
again and again,
for you and for me.
Us
and the rest, Let's die
Tonight.
For them to go and walk with them holding hands in the light from the unknown.
Whispers - paradise lost, come, come, come.
Please not,
please don't leave me now.....
It's always this time when I open my box, magic Pandora
and I confess
to all, to you,
I am scared.
I am terrified.
I want to sleep forever,
and, yes, forget.
If I could forget always before I really did I will do.
So many times for me ...
it will be
the next thing... why not? It is comical!
Thank you comedians,
now I need you all,
I need you badly.
I am just about to fuck them all off.
Smack heads is mad - is mad??
I don't think so, he knows he has seen it all.... and he has been
touched by medusa head...
Oh oh!
Boy, smack head I love you in your talk - talk, writing spell - in - ing....
scorpio rising - ing
Groups... and outcasts...
I am a scar…
Chorus:
Oh oh!
She is sad and love blinds her!
Oh oh!
Ay, ay, ay…
She is getting too warm!
She wanders in her mind and dreams too much!
Pain is what will come!
Ay ay ay ay!
The moon was full,
the moon is tempting them.
Ay AY!
She is fallen…
falling ...
Oh, goddess!
Protect her from the hell
of loneliness and melancholy,
protect her from the void she is getting into.
Ay AY!
He does not care,
he does not love!
He has got someone else and is far,
He is far in his heart!
And she, she ...
is blind,
is blind.
Goddess, save her save her…
She is, yes, confused, and sad... deeply sad...
but so what!
is it that important? …
No, nothing matters now…
In that unique night
possessed tears will flow.
Now that time has gone
forever
last week
is like last year:
here is last year, last year is here.
Can someone relate to an un-existing being?
Yes, so it seems…
Yes, because he is real,
he is too real and I know…
now
I know.
Oh! My Pandora box…
What do you keep here that can come and petrify me
when I awake from the dream I am in.
Pandora is full, and is closed.
Pandora opens and disaster is spread all over...
Chorus:
Tragedy,
Tragedy.
Fate.
Oh, oh!
Poor lady!
She is lost and is dark.
The snake is waiting,
the snake!
Oh!
Oh!
Esther,
don't go there,
don't go there!
But I will go and I am there and, there, there is nothing but darkness and nonsense and self -deception and false hopes fed by the needs of child-love, heart broken, and all the same eternal same that never cures…
Chorus:
Oh oh!
She is not listening she is falling!
Disgrace!
Death!
Hate!
Please!
Please keep away!
Oh!
Tears and tears,
Oh!
Pain, pain deep as a knife-cut,
bleed and bleed.
There will be no
sweet kisses for you,
just the void,
the dark void.
Oh, oh, oh!
Poor her…
And now after all I have to stand up and walk and my stomach contorts with pain and nothing will save me from myself…
13… What a day!
Half moon just passed a hint out of shape, …
but two days ago,
it was as if I was cut by a knife, ...
Cut, cut, cut me ... and nobody understands why
and we get cut because what hurts us - listen to that - is nothing,
nothing compared with that pain,
that pain is like the chilli in the eye of the elephant, it is, yes, harsh, but only for a second... So this is actually to say, all of you, that no cut is ever worse than
my inside wound... and the ones of my brothers, ...
that need to bleed,
because they give a fuck about you too.
13 is the one.
I was born on a 13th so the damned day …the day, my day,
and now it's too late.
No! Never was late at all!
Never, so time is on my side...fallen angel, fallen wings, fallen, fallen, fallen,
falling again and again.
And the sinner flows and falls, circles like smoke down and down and
down and more down forever
in this eternal hole like a heart that never ends, always alive....
The fallen angel fell because he loved; he loved it, and loved him,
and loved him, and love is a drug.
Love is sacred, love is a quest, an affliction,
and is dark dry desert.
It was a light and has gone...
To go dark is what makes me bleed, to see a light but it is dark, dark,
dark, so dark, so dark, dark.
13
kisses
13
millions of kisses
13
times a thousand and one nights......
13
full moons
13
half-moons
13
13
13
third and teen…
13
the end.
Oh!
Did you know ... that I have not forgotten at all about the fact…? A dream?
About dying?
Yes, yes I want to.
I can't, I can't, And …
I am waiting, for ... like Santa Teresa de la Cruz … I live without living
and I die because I can't die...
and I want to die because I can't live,
live like this, trapped like this.
Please you help me …
Please
help me,
help me.
Today I had this dream. I was trying to save some animals… from some idiots that were messing up with their poor little bodies…
Anyway … I am in the seaside land where all is so like nice when just for a while,
like the rest of all this life which gets us tired ASAP ...of anything, so I get like bored at any moment.
Yes, but boredom mixed with la dolce vita is like my thing...so fucked-up I don't have to move a finger... After the swimming and the seawater pool I had massive Absolut vodka doses provided by the super-fun gay club waiter....
Lots of clear pure Absolut at the Sunset Fitzgerald … wet hair, fresh sea, silver, ...
and sailboats floating by and all the boys playing ball games in the golden sand...
So, so, so aromatic
salt sea, lemon vodka … Yes!
Ballard knows what I am talking about, and you???
Man Ray was sweet no?
How to be like him after what he witnessed, he misses something as already a very important philosopher from ages ago knew all, and prevented us from seeing … Did he know about Vasari, artists' lives?
Did he know about the poisonings and other crimes?
Weird…
Maybe he missed the treasures of history of the amazing Baroque... Gracian, and Vasari...
portrayed it all...
X-ray all. Ray X Man.
Where is your brain?
It is a puzzle but...
Man Ray Statement,
SUBTITLE - THE PARADOX:
"I am an old man now. In sixty years you can do a lot of work. I did a lot of things in sixty years. My paintings, my photography, my objects. I change all the time. I have periods where I do one thing then for a few years then I do something else. I am a free man. I do not work for a padrone or a boss. I am indifferent to things that do not interest me. But never would I attack them. Especially in the creative arts. Because I say anybody who does creative things is a sacred person. I do not care what he does, whether he paints academic pictures or he is modern or different from anything else. He cannot do any harm. Whereas a bad politician or a bad doctor or a bad cook can kill you!"
???? Whaaaat? ???? This is me! (The criminal). What? What, what, what?
I did kill him and more than that I will kill ...... I WILL KILL YOU ALL!!! Signed:
An artist! We all know we are criminals!! Sacred criminals?? Oh Xraymanray......you were a double-agent? Ooh-la-la-la yes…
You always were my number one grrrl sistA!!
I've left a plane ticket for Doherty round at a friend's house southside... Let's hope he gets to LA b4 the end of the month – don't think I could stand a moment's more of his cheekiness!!
x mark wonderin 'ow good Croydon tarts are at REFLEXOLogEE??!!??
x always best 2 hear it from the 'eadless 'orses Mouth.

xx tigerrrr
Imagine all that time...all these blank pages are filled with all sorts of intense feelings and an amazing sunset lights English land after the rain, and the wind's coming to help my sad heart… Love, love, love.
Dear Pandora
Long time, been wandering around with a mate … a boy who does not know he is a genius…
He is very pissed at everything and at everybody...
He is a bit of a picaresque... from La Banda de Don Monipodio… He is Rinconete or Cortadillo.
Let's see...
He is a hero ... the baby... Here is some essay I found about my beloved philosopher of all times
Baltasar Gracian…
I dedicate it to my mate Keeds and his rage…
Yes,
Pandora's box ...
Here I am opening myself to you again
No holy days, no, no, no. Some more deep anti-writing frozen, paralyzed there down there.
Meet a guy, MK, I knew him
and he is rare.
I like rare.
Rare.
He writes one way,
I see and get turned on.
I am not going to talk about the amounts of chemicals I had to be taking.
No, no, not data for that, not data for no love and data for deception
in my too romantic imagination. And inspiration. Seems
hearts round me are
DRY,
DRY,
DRY,
that is all.
So what to say here to give space here for dried hearts and
dis-inspiring fear or who knows what.
I am opening Pandora for you and for me
and I do not care what else -
winds and destinies,
travellings and flight plans and projects, dreams unaccomplished but
new unexpected creatures,
the creatures, the flowers from here there appearing.
CWE is the most, the MUST I must say… he was with me for ages before, before, and before and he sees me and
recognizes me without explanations and intros,
he just knows and I know too and he makes me happy and inspired...
he crushes silky flower vetivert profound from the wood and the
woods ... trees and herbs … and unguents for skin that feels life at
high
sense - austere tears and smile from heavens
take my hand and make me dance and lets pose against the anti-pose and
the crossed pose -
PETRUSHKA!
VOILA! Despair, the heights of it and all and no no no data please Pandora
do not open these wounds now,
please do not mention the unwanted opener of a dear door
please let me go
let me forget now
just erase
got my pills
that is what counts...
ghosts to not be dead
to not kill myself
for no data no data about for what or who.
More Pandora,
now art, art?
what the fuck is this?
brain shit from my nite mares...
dedicated to all anglosaxophones!
To relate to Dali, Picasso, Picabia, Buñuel, in that specific
time of the century, the anarquistme!!
Barcelona as a small reduct for nihilistinos no no....never that great but a
place mention as in perfumes publicity ... by for example PIC A BIA
magazines from Barcelona
Why you find flamenco puro music in Man Ray movies??
What was the scene – internationialenationale - chauvinisticalepop? Pop and Brit...britten shineofffuck,
Superioreaudecolognesocolonialdreams still are yours
pop
popprincesspoppers pop …
Why all the latinos have to hide? The latino has to erase the front
hairtoomuchritahayworrrrrwhat? cansino cansino.
Why Pablo was not called Ruiz wich was his first name? or Francis, Martinez? Oh! Martinez and Ruiz,
not to saycinemaman Jean,Joan ... Vigo, such of pioneer family Miguel Almereida was
from Catalonia ... escapees all from the time of escapefromdanger
but not yet the time for Spain (iards) … not the time for acknowledgement… to get out of… just let us be what we have been before you and you and all of you and you too. Talking about vaccines and all that we infected your brains
till the point that you dare to forget from where all is this coming... Nation, nation of refusseeeees ... the ones and the onlyseees …
so much more infiltrated that,
double-agents,
we will fuck up your brains still, forever. Tralatralala!!and tortilla de patatatapaptapa....we do not exist
even if we provided you with the most of … most … most of the real
avantgardessince the barrow que...
specimensl … Sort of even more monstrous
creation … thegeniusesthatyoulovearehotblooded l a t i n o s
why
hide we do not know but (now you hide!)
We suppose that it was embarrassing to be
relatedtopostwarfascisfassccioterritoiresoallwantedtodieandrenounce
betrayedthebloodandwereashamedoftheirfamilynames
and
snobtheminparisollalalaalwherealllsointegrated infrenchexotiquequixotiquepicassooooopicabiaaaaapica pica
PICA P I C A......iwillgetmy pica name...picanassss!!
Not bad. Picanasspicanansssss … can I come in now … now can you hear me
now? … Is my passcode working?
A bit later...
I landed … bit by bit ... now I am back ... in the grey
the cloudy ... romantic … sad...
hard … tearful … …
but before leaving my land … my terra ... of clear blue … had a night on
the club where old orquestras play tangos...
like in Paris ... old couples went there... but so long ago … the spirit ... maybe stayed there...
but lots of techno sweet ... covered the walls...
well that night there someone play … someone I was ready to see and
try and test myself for...
He is like a puck ... a fairy boy ... enveloped with music … magic … and
other sorts of fairies ... playing piano, trumpet, cello, violin,
drums (a pair) ... pedals of all sorts ... keyboards ... moog .... bass…
guitars... …
and a sound that came like in the jazz times ... like
organic … enthusiasm ... rapture … laboratoire...
noise … shake....melody ... order and chaos ... coming together like
driven by the demon ... puck ... the boy … the eyes under the black long hair...
Mild night caressed by only … like in here in Sant Gervasi... the air … always the same air ...and coming up Via Augusta .... then Aribau...
My heart trembling with fear of the unknown and the future as always,
since I was a little gir,l since I was my grandmother Maria
and my great-grandfather Antoni ... trembling hearts fear
and dark in the mild soft sensual night … in the pine tree scented air…
going up and up the hill ... back home…
any of the homes ... till the last one, the one that stills is now … at Rector Ubach...
the end house, the ghost house ... the sad house.
My heart trembling ... breathing the unknown future...
the time I wish had passed … why I am not dead like them?
I wish just to be a blurry photo … a soft far memory in my young
family, Tobias.
Tobias that already has had the taste of the park at the back of
the house and of the up-the-hill-and-down-the-hill
filled with joy
and curiosity for the huge future...
filled with wars and warriors and cars and races and sailing and
sea-salt ... and wind...
I have been singing in the street with casual gypsies … clear guitar and
sour voices, sweet love … and nostalgia...
Afterwards, coming back up the hill...
I was reminded I could escape again...
again…
'scape ... free...
8 8
remember the key?
eight eight
you are a bad boy
and you like it and you know it
I saw that images from a time lost and more than gone…
as usual in to a black hole ... where we save our ghosts in a camera,
in a tape ... what a trick...
no more strange than the Egyptians painting in their tombs
all looking for eternity and repetition...
Anyway, I am not going to miss the unmissable … the regrettable...
I am looking at these moments ... 8 8 ... like seeing dead friends…
drown with the Titanic...
I cannot even allow myself to be romantic or emotional... I got left without the possible reason or sense for that...
liquid love
liquid time
diluted time ... spread in nonsense...
hours
H ... is for Hours ... the hours of sadness...
8 is for 8 days months years
Virginia will have lots to write about that.
How H? How I fall...?
My feelings are unreal … are fantasies ... I can´t trust myself or them…
My feelings are mirages...
I never guess the real…
I always trompe l'oeil...
trompe l'coeur.
Make drawings of my tears,
paint my tears as Velazquez did the pearls and embroidery over the
dresses of the infantas...
as the nets of las hilanderas...
tears bathe me in oblivion...
I still want to die
today
to die
today
todie
how bizarre life is...
always hoping to die … and I missed for one day ... the
bomb ... imagine a blast!
weird...
Just next day after I passed by ... the same station that got the bomb...
Now I am here, landed in my place where myths are different… where Zeus, still, has been someone.
In the night, I was walking the eternal… architectural ... urban settings...
where I … being so many different personas ... beings ... the little girl
always still hides in the deep dark...
and the one who believes in princes still has time to miss ... to dream...
to walk like in a sad kind of in love way...
in love with my ghost ... a ghost boat … a promise of a paradise lost...
mixed feelings … feelings mixed with the immediate, the recent
memories and perfumes...
and, long time lost, someone that still revives as soon I step in… to this city...
into my neighbourhood...
Sant Gervasy… the mouse trap
the grey pavement where all our dreams crash…
he crashed
he crashed my heart and his heart...
and we are dead
but...
ghosts are more lively than living self-deceiving persons.... again I went down and up... passing near by… Yesterday the air of this now almost alien birth town...
smelled to me in love with the more unreal dreamed…
ghost... the same that haunted my grandmother Maria...
a one that will not have the guts...
guts … and authenticity are hard to find here... in Sant Gervasy ...all fake blurred mirrors of boring bourgeoisie ... the discreet charm of ... is tedious..and asphyxiating...
It kill us off ... the ones who are too sensible for all that mediocre
faux-riche...
Now … in the day...
still smelling the same air …here …in the mouse trap... I feel more safe
and maybe the ghosts will dissolve… but … as we all know...
vampires come only when it is dark ... now he is back in his coffin...
One day my prince will come... larala larala laralaa...
larala larala laralaa...
one day my dream come true…
one day … one day... one day…
one day… one… day… …
---
Esther Planas is a visual artist, writer and musician. She is the publisher of Dark Star and plays with Dirty Snow.