Eroding the Otherness
Jennifer Anyan
---
Woking to Wimbledon
5:05pm, 17th May 2007
We are the only two people in the carriage. I am sitting a few seats down, opposite; I have a clear view. You notice almost immediately and, although your eyes keep closing, each time you shake yourself awake and catch me looking.
Clapham Junction Station, Platform 5
6:25pm, 17th May 2007
You are sauntering up and down the platform, I notice your velvet jacket first; you wear it well. You turn around and I'm slightly startled by your beautiful, feline face. After I've photographed you I get on the train, you sit next to me. I'm pretending to read but I can feel your eyes on me. I decide to close my book and look at you.
You return my gaze, I look away.
Northern Line Tube, Southbound
7:40pm, 30th May 2007
You step onto the crowded tube train and I can't help but stare. You look like a cross between Barbie and Jessica Simpson (or is that just the same thing?).
You exude perfection and gloss, an effect often achieved using moulded plastic. The trench coat works; the tailoring frames your small build and delicate features. Do I want to look like you? At school one of my nicknames was Barbie, but no one calls me that now. Perhaps not, but standing next to you makes me feel a mess. I need to get my roots done and stop wearing this cardigan.
Victoria Line, Northbound
3:30pm, 9th August 2007
I'm bored now he's gone, I look over at the newspaper the woman next to me is reading and she angles it away so that I can't see, bitch. I can feel the stare of the spiv sitting on the other side of me - I feel uncomfortable and turn away to the newspaper again, and again she angles it away. I look up and meet the gaze of the woman sitting opposite me, she smiles, I smile back, surprised.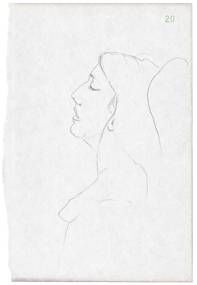 Southampton Central - London Waterloo
3:15pm, 1st September, 2007
He was just what I needed. I don't know if you realised, but it's OK now anyway. I'm back.
Brockenhurst Station, platform 2
8:35am, 11th September 2007
I watch you as you get in the right position to photograph her with your phone. I can see how you are trying to frame her on the screen. You are not aware of me. She isn't aware of you.
I take my phone out and frame you, she sees me do this, then looks at you.
I've taken you, you've taken her and now she's seen it all.
Southampton Central - London Waterloo
1pm, 17th September 2007
I've just watched you use your mobile phone to photograph a page of The Star newspaper, with a topless model on it. What a strange thing to do. Are you pleased with the picture?
Now I've made you the subject.
It was quite obvious, I know. You can't really miss the loud 'camera shutter' sound effect my phone makes when I take a picture.
I took the picture but I didn't look at you.
Now I'm looking. You are looking at the paper. I notice you've written on the leg of a girl wearing only underwear on the front page. I think it's one of the girls that used to be in Liberty X.
Southampton Central - Brockenhurst
5:32 pm, 23rd September 2007
She keeps staring at me. She's actually turning round in her seat to look at me. I'm trying to ignore her but this woman is making an effort to actually turn round in her seat to see, what the fuck is she looking at? Have I got some of my lunch on my face?
I feel like asking her if she wants a picture. There, you've got one.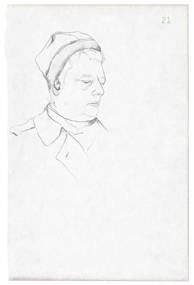 Brockenhurst - London Waterloo
3:50pm, 7th November 2007
I can feel you watching me, you know. You look like Richard March and you leer like him too, creep. God I hated working with him. Hated the way he used to stand close when he was talking to me, and move closer when I took a step back. The concept of personal space was totally alien to him, or one he choose to ignore. Do you ignore it too? Why did you choose to sit in that seat? I hate you for sitting in that seat. The camera shutter sound effect on my phone is so loud but you didn't look then, did you?
You made me hug my coat against myself and turn away. I want to pull it over my head and deny your unwanted gaze, but I don't because it might appear very strange to these others.
Brockenhurst - London Waterloo
10:43pm, 22nd November 2007
I think you are filming me. I can tell by the way you are angling that camera phone, because I do it myself. It's an amazing phone, with DV recorder I think, I've looked at them, one like it is on my wish list.
You're not cool with it though, you can't stop twitching and fidgeting. I do it better. See?
Southampton Central Station sitting on the stationary train from London Waterloo - Brockenhurst
21:23 pm, 13th December 2007
I did recognise you at the start of the journey, I just choose not to acknowledge you. Let's face it, we didn't know each other well and I can't be bothered to make polite conversation. You don't interest me and I didn't remember your name until a moment ago when you got off, Ann.
I was aware though, aware that you kept looking over and that if I'd looked up you may have caught my eye. Perhaps not, perhaps you would have looked away. Maybe there was a part of you that only kept looking because I refused to look your way.
It was at the end I knew you were really trying to make a connection with me, when you stood, long before the train stopped so that you were right by my seat. Then your presence felt a little oppressive, but I still refused to look. I think you may have been reading what I was writing.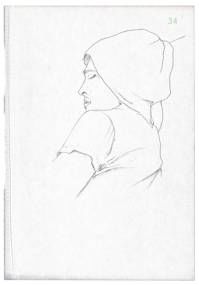 Train from Brockenhurst to Southampton Central
8:45am, 25th February, 2008
The man sitting across the carriage from me is reading a book. The thing he is using as a bookmark is a photograph of a woman lying on a bed with her top open so that her breasts are exposed. It is not a professional photograph, it is a snapshot. She has a slight smirk on her face and her hair is ruffled. I wonder if he was the person who took the photograph. Perhaps he likes that when he uses this photograph as a bookmark, others might see it.
Now he's holding it against the cover of the book - with the photograph facing outwards, facing the aisle of the train. There is definitely an element of exhibitionism in his action, and I am here to see, record and respond.
I wonder if the woman in the photograph knows that he displays her in this way. He pretends to be engrossed in his book but I think he must be thinking about showing the photograph.